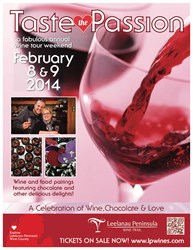 "Taste the Passion is a fabulous way to enjoy Leelanau Peninsula Wine Trail during, what we refer to as our 'winter wonderland' season," shares Lorri Hathaway, Director of the LPVA.
Leelanau Peninsula, Michigan (PRWEB) December 31, 2013
The annual Taste the Passion wine tour event hosted by the Leelanau Peninsula Wine Trail (LPVA) is being held February 8 and 9, 2014. The event takes place from 11:00 a.m. to 5:00 p.m. on Saturday and 12:00 to 5:00 p.m. on Sunday.
Participants take a self-guided tour through the tasting rooms of 21 wineries along the Leelanau Peninsula Wine Trail. Each winery features a special wine pour paired with a small plate of regional gourmet fare. Guests can indulge on the ever-popular pairing of wine and chocolate as well as wine and other sweet and savory delights.
Often referred to as winter wonderland, Leelanau Peninsula is a fabulous region to visit during the winter months. Cross-country skiing and snowshoeing through the vines in addition to other seasonal activities are part of the optional fun during the event.
Tickets are $35 per person. Quantities are limited, and most LPVA events sell out quickly, so interested participants are encouraged to get tickets as soon as possible to guarantee availability. Get tickets and learn more details including lodging packages, transportation options and more at http://www.lpwines.com.
In addition to the event, participants can kick-off the weekend on Friday night, February 7, 2014 from 6:00 to 8:00 p.m. at the Art from Michigan's Wine Country event. Hosted by the Glen Arbor Art Association, the event takes place at the Homestead Resort in Glen Arbor. Regional art is featured and available for sale onsite.
###
The Leelanau Peninsula Vintners Association (LPVA) is a nonprofit collaboration of regional winemakers to promote the Leelanau Peninsula Wine Trail. Founded in 1998, the LPVA consists of 25 winery members located in the Leelanau Peninsula AVA. The Leelanau Peninsula Wine Trail is the state's oldest and largest. The purpose of the association is to promote regional wines and wine destinations of its member wineries. Learn more at http://www.lpwines.com.