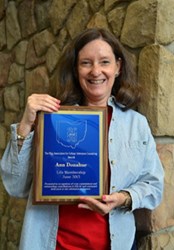 "When I look at the list of prior recipients, it is an honor and humbling to be in their company. College admissions is a wonderful, fulfilling career. Thirty-four years has flown by!"
Newark, Ohio (PRWEB) December 31, 2013
The Ohio State University at Newark today announced that Director of Enrollment Ann Donahue has received the Life Member Award from the Ohio Association of College Admission Counseling (OACAC) for 2013.
"It was an exciting surprise to learn I received the life member award," said Donahue. "When I look at the list of prior recipients, it is an honor and humbling to be in their company. College admissions is a wonderful, fulfilling career. Thirty-four years has flown by!"
The OACAC awards life membership to recognize long meritorious service to our profession (a minimum of ten years). This award is also recognition of significant participation and contribution to the activities of OACAC. Donahue joined the OACAC in 1985.
From 1985 - 2000, Donahue was director of admissions for the Newark campus, which included Ohio State Newark and Central Ohio Technical College (COTC). From 2000 – 2007, she was director of enrollment for COTC and from 2000 to the present, has been director of enrollment for Ohio State Newark.
In 2011, Donahue received the OACAC's M. Jeanne Talley Human Relations Award, which recognizes individuals who have given above and beyond to those in need and have given meritorious service.
Donahue earned her M.A. in Art Education from Miami University (Oxford, OH).
OACAC is the statewide organization serving high school guidance counselors, college admission representatives, and any other person or groups interacting with students regarding post-secondary education. To learn more, visit http://www.oacac.org.
The Ohio State University at Newark • Be a Part of Something Great!