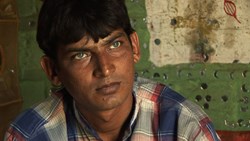 While abolished in 1947, India's hierarchical caste system is still very much alive.
(PRWEB) January 03, 2014
"Song of the Dunes: Search for the Original Gypsies" will air January 2014 on PBS stations. The film is co-directed by Paula Fouce and Academy Award® nominee William Haugse, and is produced by Paradise Filmworks International. The film tells the untold story of Merasi musicians born into the lowest caste in Rajasthan, India and of the myriad injustices that threaten their lives and precious musical legacy. As the world pays tribute to Nelson Mandela's commitment to justice in the face of discrimination, the film highlights that attaining equality for the Merasi is crucial. For more information visit: http://songofthedunes.com/about-the-film.html
In the film, Sarwar Khan of Jaisalmer protests the discrimination and injustice against a community that has traditionally been labeled as "Manganiyars", meaning "beggars", in hopes to end discrimination for future generations. The film features the Khan family of Kanoi village. In the film, Chanan Khan donates land for a music school, which serves as a safe house and allows preservation of cultural traditions.
The Kalbeliya snake charmer caste of Jodhpur is also spotlighted in Song of the Dunes. The Kalbeliya struggle and finally build their own temple, since caste discrimination keeps them from entering others. Even though India's hierarchal caste system was abolished in 1947, remnants of the system still exist. Today, over 160 million people are born as "Untouchables," who bear the brunt of caste discrimination. "Untouchables" are denied basic human rights; they are the victims of crime and violence. To improve India's human rights, voices of the "Untouchables" must be heard. For more information visit http://www.SongoftheDunes.com.
###
Song of the Dunes will air on PBS stations starting in January 2014 (http://songofthedunes.com/news-screenings.html):
KENTUCKY: January 2nd, 3AM on KET
ALASKA: January 2nd, 10PM on KUAC
Springfield, MO: January 3rd, 10PM on KOZK
Joplin, MO: January 3rd, 10PM on KOZI
ALASKA: January 3rd, 4AM on KUAC
Syracuse, NY: January 3rd, 10PM on WCNY
Flint/Saginaw, MI: January 4th, 8PM on WCMU and WCMZ
Traverse City, MI: January 4th, 8PM on WCMV and WCMW
Alpena, MI: January 4th, 8PM on WCML
Raleigh-Durham, NC: January 5th, 1:30AM on UNC-TV
Raleigh-Durham, NC: January 5th, 10:00PM on UNC-TV
Spokane, WA: January 5th, 2:30PM on KWSU
Kansas City, MO: January 15th, 10PM on KCPT
COLORADO: January 16th, 7PM MT: CO Public TV (Channel 12.2)
COLORADO: January 17th, 3AM MT: CO Public TV (Channel 12.2)
SF/Bay Area: January 22nd, 9 PM PT: KCRB
OREGON: January 26th, 7 PM PT: OPB Plus
OREGON: January 29th, 4 AM PT: OPB Plus
###
About the Directors:
William Haugse has been nominated for the Academy Award® for editing Hoop Dreams and has been nominated for an EMMY™ Award. William Haugse has worked with Orson Wells and John Cassavetes. He has taught at the USC School of Cinematic Arts. "Song of the Dunes" is Paula Fouce's fourth film on India's faiths. The films spotlight yoga, the Dalai Lama, religious tolerance, Islam, Hinduism, Buddhism, Muslims, and Mother Teresa. She co-authored "Shiva", a book on the yogis. For more details visit: http://songofthedunes.com/castfilmmakerscredits.html.
About Paradise Filmworks International:
Paradise Filmworks produces unique, informative films that inspire exploring faiths and cultures of the world-- including yoga films and spiritual films that stream on Amazon and IndiePix: Naked In Ashes; Origins of Yoga; and Not in God's Name. Paradise Filmworks is currently producing the documentary, "No Asylum: The Family of Anne Frank".
For more details about Song of the Dunes, visit the website SongoftheDunes.com