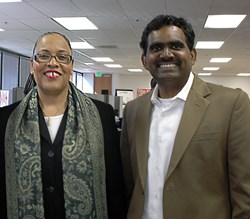 It is an honor to be named as a voice and an image that promotes public safety.
San Jose, California (PRWEB) December 31, 2013
Resiligence, Inc., announces AM 1220 KDOW Business Radio Host and Coach Margaret Jackson as their company safety spokesperson. Resiligence's TipNow and TipSocial solutions are paving the way to safer school grounds, college campuses and corporate communities. Resiligence is empowering a community's ability to get involved without being at risk through using real time anonymous SMS/text, voice, and email. "Joining Resiligence's team is an opportunity to advocate public safety among college campuses, K-12, and the company workplace. Students have the right to attend an educational institution and return home without incident. Employers have the right to employment adjustments without hostile backlash. It is an honor to be named as a voice and image that promotes public safety." (Margaret Jackson, Business Radio Host, AM 1220 KDOW)
Resiligence, Inc. national public safety initiative will roll out January 6, 2014. Safety representatives have been established throughout the nation for safety presentations. KDOW radio host Margaret Jackson will tour and speak to educational institutions, and corporations on the TipNow solution for mobile application and TipSocial solution that monitors social bullying. "We are proud to be the global leader in community safety using mobile applications and social tracking software. We believe Margaret Jackson is the voice Resiligence needs along with her sincere passion to speak on public safety and security concerns. Her inspirational approach to protecting public environments is infectious and compelling. Her support has been phenomenal to Resiligence; we are thrilled to have her on our team." (Cyril Rayan, CEO/Founder, Resiligence, Inc.)
Resilience safety solutions have picked up media attention from ABC, CBS and other news agencies. Resiligence's news and media resource page expands on the value add of using TipNow solutions. The media resource page lists press releases, television news, and print; learn what others are saying about anonymous tipsters and community safety.
Resiligence, Inc. is headquartered in Silicon Valley/San Jose, California. Resiligence is a leader in providing mobile safety solutions for corporations, college campuses, K-12 school campuses, hospitals, and hotels. Public safety is Resiligence's top priority by preventing and mitigating emergencies and losses. For more information about Resiligence, Inc. visit its website at http://www.tipnow.com.
For more information, please contact:
Public Relations Support
Resiligence, Incorporated
PO Box 23733
San Jose, California 95153
Phone: 877-395-5095