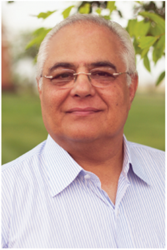 I can't make up my mind whether it comes from stupidity or deliberate misinformation. I can tell you right now that the U.S. has lost this war -- if it does not take a very drastic step.
Washington, DC (PRWEB) December 31, 2013
U.S. citizen, prominent Afghan industrialist and Silent Trees author Nasir Shansab has just returned from Kabul (where he still maintains a residence in addition to his home in suburban Washington, DC) and from addressing Parliament on the deteriorating situation in his home country.
Shansab will appear at the National Press Club Wednesday January 8th from Noon-2pm in the Zenger Room to discuss the troubling news The National Intelligence Estimate highlighted in a recent Washington Post article. The report allegedly predicts that most of U.S. gains will be lost quickly in the wake of the U.S. troop drawdown as the Taliban and other power brokers will become increasingly influential while U.S. forces end its participation in the longest war in its history.
"This is one more indication of the chaos in the planning, execution, and long-term strategy for Afghanistan," said Shansab. "No one knew what the endgame was but [the government] felt compelled to appear to be doing something."
Shansab, who recently published an opinion piece on Afghanistan in the November issue of D.C. Courier says "Until several months ago, Washington was claiming that the Afghan security forces would handle the situation. It is only now that the news is more pessimistic. I can't make up my mind whether it comes from stupidity or deliberate misinformation. I can tell you right now that the U.S. has lost this war--if it does not take a very drastic step. "
Interested members of the media and foreign policy community are encouraged to attend the press conference, where they will receive a light lunch and a signed copy of SILENT TREES, Shansab's recently published novel set in Afghanistan and published by Bartleby Press.
Talking points at the January 8th National Press Club event with Mr. Shansab might include:

Nasir's role as a leading Afghan industrialist in the 1970's, and his families long history of prominence in the country, leading back to the 9th century
How difficult it is to continue to do business in Afghanistan today in a country with no infrastructure despite billions having been spent by the U.S. to stabilize the area
Nasir's insight into the National Intelligence Estimate on Afghanistan, which includes input from 16 U.S. government agencies
How Nasir advised the Reagan White House during the Soviet/Afghan invasion
Nasir's recent address At the British Parliament House in London
What life is literally like in Kabul now (Nasir owns homes in Kabul and the Washington DC metro)
His thoughts on the imminent withdrawal of all U.S. troops from the country
Why Americans should care about what happens in Afghanistan
How life for Afghans has changed since he left and now since U.S. involvement
Please RSVP for the National Press Club event Wednesday January 8th and signed copy of SILENT TREES by contacting Allen Media Strategies Jessica Lloyd at (703) 589-8960 or Jessica@allenmediastrategies.com.
About Nasir Shansab:
Nasir Shansab is often called on by leading media outlets worldwide to give his unique, boots-on-the-ground insight into the ever-changing landscape of Afghanistan/U.S. relations. Considered "deeply dedicated to the Afghan people," Shansab has lived in the U.S. for over 30 years, while still maintaining a residence and various business interests in his home country. Nasir is often very critical of the rampant corruption of the Afghan government and supportive of U.S. efforts in the country, working tirelessly to improve the plight of the Afghan people, especially their children. The Shansab name is one of the most respected in that country, comparable to the Kennedys or Rockefellers in the U.S. Silent Trees, touching among other things, on the impact of a corrupt regime on personal relationships, is Nasir's second book on Afghanistan.
Shansab was one of Afghanistan's leading industrialists throughout the 1970's. His success put a bulls eye on him and his family; even though Shansab harbored no political ambitions, he was singled out as a threat and told he would be arrested and could face execution. Shansab and his family were forced to flee the country, first settling in Germany, then the U.S. where he was granted political asylum in 1980.
In 1981, a native Afghan resistance had begun and Shansab traveled to the region to advise the Mujahedeen. He developed relationships with resistance leaders and even had a breakfast meeting with Osama bin Laden, who was giving money to the resistance. Shansab took notice of bin Laden's arrogance and contempt for the Afghan people. Shansab also advised American officials. He told the Congressional task force on Afghanistan that the resistance was failing and that their greatest need was advanced weapons to neutralize Soviet air superiority. This helped put in motion a strategy change, culminating in a ceremony at the White House and Shansab was among the guests when President Reagan signed a commitment that the U.S. would actively support the defeat of the Soviet Union.
It gradually became clear that it was possible for the resistance to drive the Soviet army out of the country, but a new concern emerged: infighting between the factions. He expressed his misgivings directly to resistance leaders, urging them to work together. Shansab began warning the West of a coming civil war, arguing that only with intervention from the West could it be avoided. Unfortunately, his predictions were correct. Shansab has consistently called for a different government in Afghanistan, rooted in freedom and opportunity instead of tribalism and repression. He focuses on improving the lives of the Afghan people through educational and industrial projects, and splits his time between homes in the Washington DC area and Kabul.
Visit Nasir Shansab online at http://www.shansab.com.