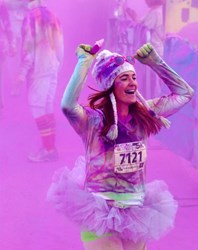 We want our runners to have a ridiculous amount of fun.
(PRWEB) January 01, 2014
Color Me Rad 5K is getting the new year off to a festive start by opening its 2014 season with three resolutions: more fun, more color, and more fitness. Participants will complete their New Year's resolution lists with this 3.1-mile run that will turn them every shade of rad as they get fit and save money. All race openings will be at their lowest registration prices for the first three days of January. Far from a competitive race, Color Me Rad encourages the fun side of fitness, and brings out many new runners to complete their first 5K.
Last year, more than 700,000 runners participated in Color Me Rad in 120 locations across North America, and it's more than a passing trend. Races have also opened in Korea, Taiwan, and Australia, with more international race locations slated to open soon. The non-competitive, family-friendly atmosphere makes this race accessible to all. Runners start the race with a sparkling white t-shirt. By the time participants cross the finish line, they'll look like a kindergarten art project gone oh-so-right. Finishers celebrate their accomplishment by throwing their own Color Bomb™ into the air, creating a final explosion of color. In addition to the run, post-race dance parties, innovations such as color blasters, and a "bring your friends" atmosphere keep people coming back each year.
Inspired by the Holi Festival of India, a group of friends decided to bring some excitement to the sport of running through color, music, and a total disregard for the mundane. "We want our runners have a ridiculous amount of fun," said race organizer Scott Crandall. "This is your chance to get out of the box and have a great time while you're getting fit."
Color Me Rad is a for-profit event that gives a portion of the proceeds of each race to a local charity. "The only thing better than getting covered from head to toe in color is knowing that it also helps a good cause," Crandall said.
Participants of all ages are welcome to run or walk. Registration is available at colormerad.com.
In 2014, Color Me Rad™ will hold races across the U.S. and Canada in more than 120 cities. For more information and to see additional race locations, visit http://www.colormerad.com or on Facebook at http://www.facebook.com/colormerad5k.