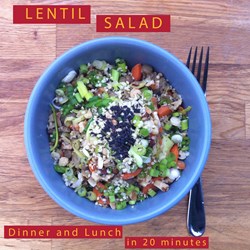 I always wished that I had my own personal nutritionist...this is the next best thing.
Calgary, AB (PRWEB) January 01, 2014
The holiday season has once again come and gone, and after two weeks of overindulging on food and drink, it's time to get your diet back on track. January is a time for new beginnings and people are excited and feeling motivated. But how do you stay on track once that feeling wears off? And how do you even know that you're doing the right things? Where do you begin?
Enter: Knack Real Food
Knack is designed to take all of the thoughts and efforts out of eating a perfectly healthy and well balanced diet. Each week subscribers are sent a 7 day customizable meal plan via email. They pick the meals they want to make for that week, a grocery list is created based on their selections, and when they're ready to cook, the easy to follow recipes are there for them to make the chosen meals.
It's quick – most recipes take 20 minutes or less – it's easy, it's flexible, and most importantly, the food is delicious! Leftovers are even built into the plans with every meal so customers don't ever have to worry about making lunch for the next day.
"Right after the holiday season is the perfect time to implement a new positive lifestyle change", says Knack Real Food founder Trevor Ash. "We all want to look and feel great, but for a lot of people the road to getting there is quite unknown. And that's what we're here for."
Knack's recipes are all Nutritionist curated and the meals are balanced according to Holistic Nutrition. Included in the weekly email along with the meal plans, are bite sized easily digestible tips that customers can instantly implement to improve their health and help them improve their skills in the kitchen.
"I've always tried to eat as healthy as possible, but I found myself eating the same salad every day. I always wished that I had my own personal nutritionist to tell me what to buy at the grocery store and what to do with it when I got home," says Ash, "This is the next best thing!"
A subscription costs just $14/month and they offer a 100% no questions asked money back guarantee.
For anyone that ever struggles with what to make for dinner after a long day's work, or doesn't know what to buy when they walk into the grocery store, Knack Real Food might be the solution.
About Knack Real Food
Knack Real Food is an online based nutrition company that launched in December 2013. Knack provides customers with customizable meal plans, grocery lists, and recipes to make incredibly healthy and delicious food, which makes healthy eating as easy as possible, and solving the problem of what to make for dinner.