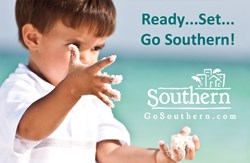 It is Southern's vision to be the most caring company along the Gulf Coast, and this starts with our employees.
Destin, Fla. (PRWEB) January 10, 2014
Go Southern -- a local, family-owned group of companies -- is proud to have donated more than $120,000 in vacation rental stays, hundreds of volunteer hours and thousands of sponsorships dollars to local charities and foundations throughout 2013.
"It is Southern's vision to be the most caring company along the Gulf Coast, and this starts with our employees," said Owner Mike Shoults. "We treat our employees like family to create a positive working environment, hire people that embody our core values and provide them with great benefits, publicly recognize employees that go above and beyond and celebrate our successes together."
Through Southern's volunteer program that encourages staff to get involved in the local community, teams of employees have helped at numerous events and provided funds and supplies for organizations along the Gulf Coast, most notably United Way, Cystic Fibrosis Foundation, Ronald McDonald House, Children's Miracle Network, USO and Alaqua Animal Refuge. For example, RE/MAX Southern is a 100% Children's Miracle Network Brokerage; every real estate agent donates a portion of his or her commission, which has added up to thousands of dollars of support. Other Southern employees also get very involved in fundraisers, and in 2013, they raised money to support Southern teams in annual events such as Great Strides, Day of Caring and much more.
Additional ways Go Southern and its businesses give back to the local communities include sponsoring Little League teams and high school teams through events such as the Go Southern Beach Blowout basketball tournament this December at Fort Walton Beach High School. This Christmas, the company also adopted two families in need in Navarre and Fort Walton, putting smiles on the faces of children and their parents by delivering gifts they would not have otherwise received.
Southern and Pointe South Vacation Rentals also care for their customers by providing special rates to past guests, military and local residents, Southern Perks free and discounted activities and attractions to all guests, mailings to top guests and special in-room treats during November, the Month of Thanks.
In 2014, as all of the Go Southern businesses continue to grow, the company plans to also exponentially grow its caring in its communities. To learn more about upcoming opportunities to join Southern in giving back from Gulf Shores, Ala. to Port St. Joe, Fla., visit GoSouthern.com and view each business's blogs.
Go Southern has been a premier Northwest Florida vacation rental, property management and real estate company since 1995. Together, Southern Management Group represents countless real estate properties, more than 930 short term rentals, 800 long term rentals and 40 associations from the Forgotten Coast, Fla. to Orange Beach, Ala. Owned and operated by two sets of brothers, Mike and Brad Shoults and Kevin and Kerry Veach, Southern is a family and community oriented company whose mission is to exceed customers' and owners' expectations by providing the highest quality experience and service along the Gulf Coast. Ready...Set...Go Southern!
For more information about Go Southern and its family of companies, visit http://www.GoSouthern.com or call 800.879.0309.
# # #