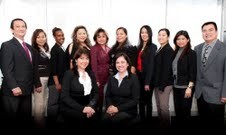 1Heart Caregiver Services, 'Heart for Caring'
Los Angeles, California (PRWEB) December 31, 2013
1Heart Caregiver Services (1Heart CS) with other business units L.A. Jobs Employment Agency and Summit Medical Billing under the BCT Group of Company attended its in-house training on Business Process and System handled by its Director for Business Development and Training Randy Clarito. BCT Group headed by its CEO Belina Calderon Tagarao, a Los Angeles IMAGE AWARDS luminary honoree, expressed optimism and continued business expansion for year 2014 in different states all over USA while strengthening stronghold to Los Angeles, Orange and Ventura County area.
In the company's quest to ensure implementation of agreed process and system, all participants were able to have a clear understanding of their individual Key Result Area (KRA) where office expectations were articulated by CEO Belina and Training Director Randy. All other Business Process were presented and efficient methodology are conducted by the entire group to ensure that effectiveness by each department are rendered at a high level of achieving desired business results.
The Trademark for 1Heart Caregiver Services and CS Caregiver University have been filed and its strong use are now the focus of all PR Campaign by the group and its Business Consultants based in Chicago IL and Atlanta GA. The group had strong commitment to firm up the Training Program for the CS Caregiver University and all the Strategic Plans and comprehensive Operations Manual for 1Heart CS expansion should be ready by early part of 2014. The Training Modules for CS Caregiver University will initially have the corporate's '3 Purpose of Business', unique 1Heart CS Circle of Care, STAR Philosophy, Vison/Mission/Core Values, Service Philosophy, 1Heart CS Ladder of Success, Vital Functions of Selling, Effective Presentation skills, Market Information System (following in-depth market research), Selling Techniques, Handling objections, Closing skills, Effective Habits needed and technical side of the service like personal care service, incontinence care, transfer and lifting technique with use of body mechanics, effective communication for people with dementia, handling situations in focus, assertive vs. aggressive communication, bathing and bed bath of clients, brain fitness exercises, physical therapy follow through program and range of motion.
1Heart Caregiver Services is a certified member of reputable home care association like CAHSAH, California Association for Health Services at Home and an active member of a strong business network group 'Power Connections' and accredited / affiliated with Alzheimer's Association, Council on Aging, Caring.com, Venturaeldercare.com, Thousand Oaks senior services resource company, Thumbtac.com and other senior healthcare agencies all over USA.
Call hotline #213-351-9100, on call 24 hours a day or visit http://www.mycaregiverservices.com for your immediate in-home care service help and free consultation /evaluation.
About BCT Group of Company headed by CEO Belina Calderon Tagarao:
1Heart Caregiver Services (1Heart CS) http://www.mycaregiverservices.com is a premier In-home care service company that provides professional private care duty to seniors and adults requiring assistance in their home and healthcare needs for the past 10 years. The company is run and managed by healthcare Executives with local and international training with combined top level executive work experience of more than 50 years. CS is the only In-Home Care company that has its in-house 'Caregiver University' spearheaded by Training Director Randy Clarito in Southern California area that provides professional caregiver training held at its Los Angeles head office aligned with its 'Continuing Professional Education' program implemented to all corporate managers and staff of the company and extended to senior living facility requiring in-service training for their staff. The Staffing department headed by Staffing Officer Jennifer Remigio takes charge of staffing solutions to all cases, hiring and screening of all applicants and update of caregivers, CNA and HHA data base that can readily be assigned to new and existing cases handled by Case Managers Arnold Navarro, Anne Capili and Area Managers assigned in each target County. The company carries out a 'Circle of Care' process that is uniquely implemented by all Staff Managers and can not be matched by any senior care service company. 1Heart CS is a Certified Member of CAHSAH, California Association for Health Services at Home and operates in Los Angeles County, Orange County, Ventura County, San Fernando Valley, San Bernardino County and Santa Barbara County area. For a free evaluation, call #213-351-9100 #805-338-8100, #310-779-6254, #818-561-6641 and #562-412-2420 for an agreed schedule of appointment. For caregiver applicants with minimum of 2 years work experience, look for Jennifer Remigio to process the application with the submission of live scan finger print, CPR / First aid certification and TB test results.
L.A. Jobs Employment Agency
The leading career and visa specialist in Los Angeles for foreign professionals. L.A. Jobs, http://www.lajobsea.com provides more opportunities for international workers who are highly qualified professionals and competitive to be able to build their career in the U.S. The company had successfully placed hundreds of applicants in the past few years even during the period of recession and it had attained a high approval rate of H-1B work petitions and green card of applicants enabling them to take the path to citizenship through employment and live the American dream. The company aims to be the premier leader in the employment industry in the U.S. Visit for free consultation and look for Mari Reola, HR Manager and Pam Sison, Legal and Marketing Specialist or call at #213-351-9100.
Summit Medical Billing
A fast growing Medical Billing company that helps physicians and other medical and healthcare companies obtain payment from insurance carriers and patients by effectively handling insurance claims and aid them to manage their practice and finance side efficiently. Summit Medical Billing aims to establish a strong alliance with the American Medical Association and continue to provide help to their members increase their revenue with the efficient handling by the company's billing expert. Call for free evaluation and consultation at #213-351-9100.