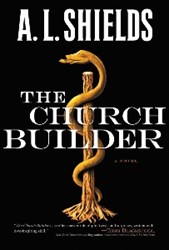 New York, NY (PRWEB) December 31, 2013
A.L. Shields's new novel "The Church Builder" is scoring big with three major constituencies; high profile members of the media, other best selling authors and most importantly, readers themselves.
Shields, the pseudonym for New York Times best selling author Stephen Carter ("The Emperor of Ocean Park") has crafted a gripping thriller about a secret society that has been conspiring for generations to eradicate religion. The final outcome rests on central character Bethany Barclay's ability to piece together the events of the final months of her best friend's life.
Lis Wiehl, the FOX News Legal Analyst well known for commenting on the biggest legal stories of the day and sparring weekly with host Bill O'Reilly, says "The Church Builder has it all! I love this book. Bethany is my kind of superhero; smart, compassionate and oh so wise."
Jerry B. Jenkins, co-author of the mega-successful "Left Behind" series says that The Church Builder is a "Provocative tale by a craftsman at the top of his game. Besides being riveted and entertained, you will be challenged by The Church Builder to think in new ways."
Praise has also poured in from New York Times best-selling author Terri Blackstock who calls The Church Builder "A roller-coaster ride of plot twists and surprises, written with awe-inspiring skill" while best-selling author Davis Bunn calls it "Outstanding. Riveting and disturbing in equal measure…and highly recommended."
But it's the comments from everyday readers that that are most telling; a random sampling from Amazon.com reader reviews find them exclaiming "This is an awesome book!" and "Oh wow, what a story! When is the next one coming out?"
The story that has readers hooked centers on struggling attorney Bethany Barclay. The evidence is against her. The FBI is right behind her. A malevolent killer has her in his sights. And as Bethany digs deeper into a complex web of lies surrounding the murder of her client's son, she remains unaware of the real battle in front of her. She thinks her friend Annabelle was killed because of what she learned about a rumored first-century Christian artifact. What Bethany doesn't know is that Annabelle died in the crossfire between two shadowy organizations that have been doing battle for centuries. The Wilderness, wealthy and vast, is dedicated to the destruction of all religious faith. The Garden, a group of seven members led by a man they call the Builder, carries on a grim, secret struggle to protect the church.
Only a few in the Garden realize that there's more at stake than the artifact the Wilderness is seeking. As Bethany discovers that she's a tiny part of a larger war, can she trust the Builder to save her? Or will he sacrifice her for the cause?
It's an exciting book premise from Shields/Carter, a William Nelson Cromwell Professor of Law at Yale for more than thirty years and the author of seven other acclaimed works of nonfiction and five bestselling novels. These include The Emperor of Ocean Park, which spent eleven weeks on the New York Times best seller list. This is his first book under the A.L. Shields pen name.