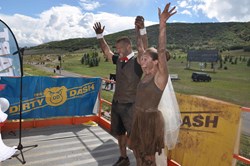 Every year people come back to play in the mud.
(PRWEB) January 01, 2014
The Dirty Dash is ringing in the New Year, and celebrating five years of muck-filled running bliss, with more mud and more obstacles. This will be the fifth year that participants have faced the mud mines, cargo nets, sludge pits, and giant slip n' slides that have become synonymous with having a great time. But this year the mud will be even deeper, new obstacles will debut, and several cities including Chicago, New York City, Boston, and Pittsburgh, have been added to the schedule. The Dirty Dash brings out the inner swine in runners.
"Every year people come back to play in the mud," said race organizer Matt Ward. "If your friends aren't doing this, they probably aren't very fun."
Spectators are in on the fun too. They can pelt oncoming runners with water balloons, the proceeds of which goes to local charity. Kids can also enjoy a condensed version without missing out on any of the fun at the Piglet Plunge, a mini-sized romp in the mud pits and Slop 'n Slide.
A portion of the proceeds of the race goes to a local charity.
"We've been doing this long enough to know that helping a good cause is even more gratifying than mud tan lines," Ward said.
After the race, those that want to donate their used shoes can leave them behind for people in need. The Dirty Dash will clean them and give them to charity. More than 35,000 pairs of shoes have been donated in the previous four years.
The Dirty Dash is getting people muddy all over the U.S., with new locations being added on the east coast. For more information on this event and to see additional race locations, visit http://www.thedirtydash.com or check out what fans have to share on Facebook at http://www.facebook.com/TheDirtyDash.