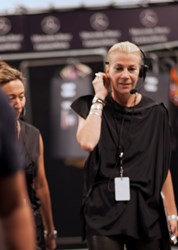 (PRWEB) December 31, 2013
What Melissa d'Attilio loves most about producing fashion shows is that she gets to work with so many different designers and people. "I'm able to create something that will accent the collection, I start from scratch and create a beautiful event for the designers and press."
When FashionMingle.net followed the fashion show producer behind-the-scenes during New York Fashion Week in September, it was obvious that the former fashion designer turned fashion show producer understood implicitly what her clients need.
A graduate of the Fashion Institute of Technology and a former designer for the Tommy Hilfiger brand, d'Attilio has spent a lifetime exploring the creative arts, from designing, to styling, to photography, and fashion show production.
After working for the premiere fashion industry production company, KCD, for four years, Melissa launched her own company, Fly Productions Creative in 1998 and has produced fashion shows for top designers such as Naeem Khan, Rebecca Taylor, Diane Von Furstenberg, Chanel, Jill Sander, Ralph Lauren and more.
For the Spring 2014 Collections, d'Attilo produced four fashion shows; Naeem Kahn and Rebecca Taylor with whom she has a long working relationship, and newer clients; Tess Giberson and Trina Turk. Each fashion show was held at a different venue, each with their own unique requirements for seating, lighting, music and set production, allowing d'Attilio ample opportunity to showcase her creative talents and manage the broad range of skilled professionals required to pull off four high-profile fashion shows during New York Fashion Week.
As a fashion show producer, d'Attilio says "I'm here for the designers, I'm here to make them look really good and create a seamless show for them." The goal is for the fashion show to reflect what the designer's collection is all about, "through the location, the lighting, the music, everything we design is based on the theme of the designer's collection." she says.
The team at FashionMingle.net followed Melissa d'Attilio backstage at all four productions and got a bird's eye view of what it takes to pull together such a high stakes event. From working through the night as she did to produce Rebecca Taylor's show, or constructing a "living wall" in three hours for Naeem Kahn's showcase in the Lincoln Center "Theater" tent, d'Attilio has it down to a well-orchestrated science. The behind-the-scenes videos can be viewed on FashionMingle.net and features interviews with the designers and Ms. d'Attilio as they prepare the Spring 2014 collection for it's debut during New York Fashion Week.
About FashionMingle.net
FashionMingle.net is a PR platform for fashion entrepreneurs to share, discover, and mingle. The business directory and social network create a platform for fashion entrepreneurs to promote their services and grow their business. More information can be found at FashionMingle.net.