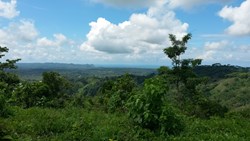 "Instead of wondering when your next vacation is, you ought to set up a life you don't need to escape from." - Seth Godin
Quepos, Costa Rica (PRWEB) January 03, 2014
A group of experts in international real estate has teamed up to build the largest sustainable community development in Costa Rica's history.. Pacific Paradise Properties is being built in Quepos, home of Manuel Antonio National Park, the most visited location in Costa Rica and also home to some of the most desirable real estate. The team managing this project includes Steve Linder, the top real estate sales associate in Costa Rica, Rubloff International http://www.Rubloff.com, Chicago's #1 luxury real estate firm as well as Berkshire Hathaway's roughly 2000 brokerages and Jim Gale's group, Osa Mountain Village, developer of the most successful sustainable living project to date in Costa Rica.
Current trends in population growth and the use and production of energy, food and materials have strained the word's natural resources. It is widely recognized that rapid climate change is a growing concern. Human health and a changing ecosystem have been negatively affected. These impacts have included economic costs such as increased costs to heat and cool homes, commuting and transporting goods, etc.. Sustainable communities which work to conserve resources and minimize waste are gathering steam. Sustainable food production is key to this project.
Pacific Paradise Properties will be a planned master community with low HOA fees and a business participation program designed to give a percentage of all profits back to the community and with common area amenities to generate income to offset operating expense. Nearly 75% of the entire development will be planted with fruits, vegetables or green space. A fish farm and chicken coops will be built as well. The community will include a volunteer center, a community center and a healthy living program. This model has already proven hugely successful in Osa Mountain Village.
The home sites will be individually deeded with full ownership to the buyer and registered in the national registry in Costa Rica. Foreigners have full right to property ownership in Costa Rica. The Quepos location is ideal and the property selected could not be better for the purpose, located just off the new Costanera highway about 2 hours' drive from the San Jose International airport. There is a large public hospital, a domestic airport and brand new large marina located nearby as well as over 100 hotels and restaurants. This part of the country is one of the most beautiful with towering mountains, majestic palms, white sand beaches and home to the most visited national park in Costa Rica.
To kick off the project they've announced a limited time offer through January 31, 2014. 30 people only will buy a highly discounted predevelopment 1/2 acre home site in Pacific Paradise Village and receive a 3 day free luxury vacation in Costa Rica including airfare of up to $600 per person. For the first 30 people, mountain view home sites are discounted to $40,000 and ocean view at $60,000. These lots will list for $50,000 and $75,000 in early 2015 when the project officially is released to the public. The 30 initial buyers will also have the option of having the developer purchase back their lots in 24 months for 20% more than they paid for it, $48,000 or $72,000 respectively. They'll also have first pick of home sites out of the 500 lots planned in the community. These initial buyers will have their investment secured by a first mortgage on the property until the lots are individually segregated.
We Sell Costa Rica is a real estate firm dedicated to finding the best values for their clients. To find out more contact Steve Linder at 305-295-0137 or at http://www.wesellcostarica.com.