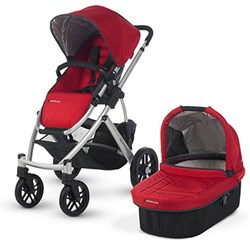 Picking a stroller that best fits your needs, without breaking the bank, is a critical decision
Cheyenne, WY (PRWEB) January 24, 2014
BabyGearLab.com, a company dedicated to creating clarity around the entire decision-making process for baby products and founded by pediatrician Dr. Juliet Spurrier announced today the availability of a new guide aimed at making the daunting task of choosing a stroller as simple as possible.
"This project was written to assist parents in understanding the most important considerations that one should be informed of when shopping for a stroller," says Dr. Spurrier, " Additionally this guide contains critical safety information that new parents can use to help make the right decision."
BabyGearLab's stroller buying guide titled, "How to Choose the Best Stroller," details not only practical and hard won insights regarding the best features and important factors when confronting the stroller buying process, but also several health and safety tips which can help make stroller use safer.
The article begins by explaining the different needs that a baby will encounter at different ages and includes an in depth breakdown of the types of strollers that are available.
The guide leverages lessons learned from six months of testing 21 top rated strollers performed for the recently published 2014 BabyGearLab review.
"Picking a stroller that best fits your needs, without breaking the bank, is a critical decision." Dr. Spurrier notes, adding that "Certain features can and do affect the safety of a product, and we've attempted to outline the most important safety concerns, as well as practical considerations like ease-of-use, maneuverability, and storage, to help a parent make an informed choice."
The article continues by laying out the key functional elements of a stroller that most affect its performance and thus your experience with them. Chief among these are the subjects of maneuverability, ease-of-use, and storage capacity. All totaled there are seven of these key elements, which can make or break your stroller purchase.
Following the walk-through of important features one must consider, there is a detailed section on strolling safety. This could be arguably one of the more concise and easy to understand references on the subject of strolling. Included are 9 Tips for Safer Strolling that are collected from top safety groups, most notably the Consumer Product Safety Commission (CPSC) and the American Academy of Pediatrics (AAP). Each of these agencies has compiled safety suggestions, which are the product of common real life issues.
Whether looking to buy a stroller or merely brush up on your safety practices, the BabyGearLab Buying Guide is sure to be not only inform, but should also help to remove any anxiety about this important decision.
About BabyGearLab
While practicing pediatrics in the Bay Area and pregnant with her son, Dr. Spurrier sought out a resource to help with the purchasing decisions she had to make on behalf of her baby. Unable to find a quality source of information to guide her, , she started BabyGearLab.com around the time that her second child was born to help new parents in a similar situation. Dr. Spurrier is a board certified pediatrician. She oversees review quality in her role as Mom-in-Chief and Founder of BabyGearLab.