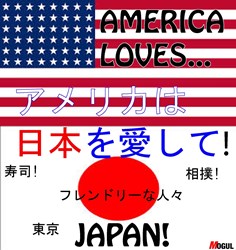 I want to show (Japan) how respected it is in the United States. - Darron Morris
North Las Vegas, Nevada (PRWEB) January 02, 2014
Mogul Films is in the final stages of completing deals on its series "America Love...", which focuses on the culture of one country per season, from an American's point-of-view." Japan was an obvious choice to be our first country featured," states Mogul Films President Darron Morris. "I've spent over three years in this lovely country. I want to show the people of Japan just how respected they are in the United States."
Mogul Films was the producer of the current film "An Incident In San Ysidro", now available at Mogul Swag.
"America Loves . . ." will be extending its format to similar markets, including South Korea and China.
Mogul Films is a multimedia production company based in North Las Vegas.