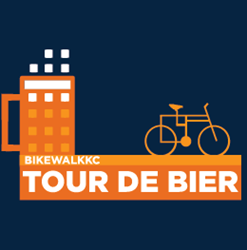 Kansas City, MO (PRWEB) January 10, 2014
The Tour de Bier KC will celebrate the great brewing tradition of Kansas City May 18, 2014.
The Tour de Bier KC, is a historic point-by-point bicycle excursion of Kansas City's breweries, historic brewing landmarks and other breweriana and is lauded as "the most fun you can have on a bike" according to Eric Rogers, the executive director of BikeWalkKC.
Participants in the Tour de Bier KC can look forward to learning about the rich history of brewing in Kansas City and learn the stories, fables and urban legends surrounding brewing in Kansas City. On the tour you will learn about the "wettest block in the world," the unusual shape of the first beer can and where in Kansas City was the location of the city's only Alligator pit.
Registration for the Tour de Bier KC is open and is limited to 1200. The fee for the tour is $35.00 until Jan. 13, 2014. Those that sign up before May 1, 2014 will receive a t-shirt with their entry fee.
The Tour de Bier KC will start and end at Knuckleheads Saloon in the East Bottoms. All participants will cruise through the City Market, meander beside historic buildings in the West Bottoms, and pass by some of the most famous (beer) institutions in Kansas City. The main tour will take riders past Boulevard Brewing Company, and the longer tour will zip past McCoy's in Westport to Martin City Brewing Company. The Tour de Bier KC will have plenty of fun, themed rest stops, docents to help tell the story of the Tour de Bier KC and many guides to help you along the way.
At the end of the Tour de Bier KC participants and the public will celebrate not only the end of the Tour de Bier KC, but also the end of Bike Week 2014 events for the region. There will be beer for tour participants provided by the Boulevard Brewing Company and food and massages for all participants after the ride. If your bike needs fixing, local bike shops will be there to help you get back on the road.
The Tour de Bier KC after-party and Bike Week 2014 end celebration will start at 1:00 with a jam session at Knuckleheads with Levee Town on the main stage. Listen, dance or get up on stage and show us what you're worth! The jam session is free and open to the public, all ages are invited.
Learn more at http://www.tourdebierkc.com and like us on Facebook at http://www.facebook.com/TourdeBierKC.
###
Proceeds from the Tour de Bier KC will benefit BikeWalkKC, the unified voice for active living, promoting a healthy, safe and accessible outdoor experience for all in a vibrant, engaged community.