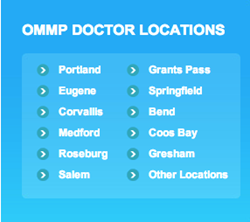 (PRWEB) January 01, 2014
Oregon Medical Marijuana Cards is a network of state-certified alternative health clinics that are made readily to assist both current and inquiring medical marijuana patients. While the O.M.M.C. typically provides services to patients who are suffering from complications of a chronic or debilitating condition, this location also serves as an information portal for all O.M.M.P. patients. With the recent announcement that Oregon is going to allow for post-traumatic stress disorder (P.T.S.D.) to be added to the list of approved conditions, veterans across the state are now able to achieve a sense of compassionate healing through one of this clinic's medical facilities.
Most of the veterans who are seen at local V.A. hospitals across the state of Oregon require treatment for the condition of post-traumatic stress disorder. These veterans are given a host of medications, including those such as strong prescription opiates, or painkillers, in order to alleviate any chronic or debilitating symptoms associated with this medical condition. Recognized as an anxiety disorder that can develop after immense exposure to one or more traumatic events, these veterans suffer from moments that either threatened livelihood or caused great physical harm. P.T.S.D. is both a severe and ongoing emotional reaction to an extreme form of psychological trauma. This condition is nothing but deserving of being added to the Oregon medical marijuana approved conditions.
Acting as a licensed alternative healthcare establishment, the O.M.M.C. Clinic LLC has proudly announced an expansion of its compassionate medical practices, now being able to recommend medicinal cannabis as an alternative treatment method to veterans who suffer from post-traumatic stress disorder. Oregon Medical Marijuana Cards has recognized that P.T.S.D. is one of the largest conditions among the veteran community and aims to give back to those who have served this country and paid the ultimate sacrifice.
Thankfully after much debate and protest, Oregon has approved post-traumatic stress disorder as another qualifying condition in the state and can now compassionate treat the nation's heroes. For anyone that has been diagnosed with P.T.S.D. and who is interested in obtaining a medical marijuana card in Oregon, can begin by filling out an application online. The patient will need to provide medical records from the VA hospital or other health care provider showing the current diagnosis and treatment of P.T.S.D. After the records have been reviewed and approved, the patient can schedule an appointment at the O.M.M.C. Clinic LLC. The cost to apply for a medical card range from $195 to $375, which included the doctors visit and state applications fees.
With medical clinics in Portland, Salem and Eugene, the O.M.M.C. Clinic LLC can conveniently serve patients all over Oregon. For more information regarding medical marijuana and P.T.S.D. you can learn more about this reputable brand, please visit http://www.OregonMedicalMarijuanaCards.com (PTSD link).