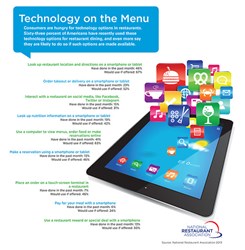 "The new Olo technology ensures that we deliver on our brand promise by making ordering faster and even more convenient," said Fazoli's Brand Director, Stacy Hettich.
New York, New York (PRWEB) January 06, 2014
Today, Fazoli's announced an enhanced online and mobile ordering platform, powered by Olo, perfect for guests looking for quick and easy catering.
With Olo's easy to use platform, Fazoli's fans can browse the full menu of box lunches, freshly made pasta, pizza, salads and of course, breadsticks – in just a few quick steps, using any mobile device or computer. Details such as desired time of pick-up or delivery are easily managed on the online platform, which also allows users to pay for their order and saves favorite orders to make future ordering a snap.
"We pride ourselves on event catering that is so simple, guests don't have to lift a finger – just a fork," said Brand Director, Stacy Hettich. "The new technology ensures that we deliver on our brand promise by making ordering faster and even more convenient."
Olo led an extensive revamp of Fazoli's platform after the chain recognized a need for better functionality and speed. The online and mobile catering system links directly to each restaurant, so customers can trust every detail will be communicated and flawlessly executed for any size event.
"The majority of Americans have now tried technology options to make take-out, dine-in or catering orders at least once," said Noah Glass, Olo's founder and chief executive. "Fazoli's continues to be a leader in simple, delicious catering options, now served up with a side of technology."
About Olo:
Founded in 2005, Olo is the original and best-in-class provider of online and mobile ordering capabilities for the restaurant industry. More than 150 top restaurant brands rely on Olo's award-winning multi-channel sales platform to seamlessly integrate online and mobile orders with their point-of-sale systems, so operators have freedom of choice in technology and maintain an independent relationship with their customers. Today, more than 4 million customers use Olo to order ahead and get food faster at their favorite restaurants across the U.S. Learn more at http://www.olo.com or olo.tumblr.com.
About Fazoli's
An American family favorite for more than 20 years, Fazoli's ranks #2 overall among large national fast-food chains in the prestigious Zagat Survey. With a premium menu of freshly prepared Italian entrees, oven-baked sandwiches and salads, a new service style featuring table service and a contemporary new restaurant design, Fazoli's is expanding throughout the country. Founded in Lexington, Ky. in 1988, Fazoli's was acquired by Sun Capital Partners in 2006. Learn more at http://www.fazolis.com or on Facebook, Twitter, Instagram and Pinterest.
Media Contacts:
For OLO: Ellen Hartman; (678) 399-3335, ellen(at)hartmanpr(dot)com __title__ ]