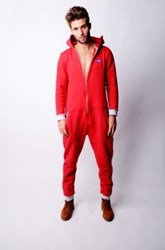 We wanted to make comfortable stylish. We started Hoodsie in pursuit of ultimate comfort.
Los Angeles, CA (PRWEB) January 02, 2014
Hoodsie, a new apparel company and creator of the fashionable adult onesie, has met their $15k goal on the Kickstarter campaign and will put rewards into production. More than 279 backers have donated so far. The question has been answered: "onesies are comfortable, but are they cool?"
For the last week Hoodsie has been at the top of Kickstarter's "Most Popular" list. They introduced The Outdoorsie as the first new reward to celebrate early funding. The Outdoorsie is an all weather, waterproof version of the Hoodsie. To thank backers for getting the campaign to $25k, they are adding two additional colorways for to the very popular Pima Collection. Two young fashion entrepreneurs with a shared passion for onesies developed Hoodsie. Lisa Carole and John Douglas of Toronto, Canada worked on the fit and design of the Hoodsie for more than a year and make them from 100% Peruvian Pima Cotton, so they're softer than any other onesie on the market. What's more, Hoodsies are available on Kickstarter for less than the price of other established onesie brands, something that will continue after the campaign has closed.
"We are thrilled to have such support from the Kickstarter community and our backers," says Lisa, also the Hoodsie CEO. "We knew the Hoodsie would be popular but didn't imagine it would get fully funded so quickly! We thought that crowdfunding was the perfect platform because it is the quickest route to consumers who are looking for the next big thing. Whether you're watching football, lounging around the house, or studying for exams, everyone prefers comfortable clothing. We decided to make comfort stylish with the Hoodsie. We wanted to start a clothing company that was all about fun but offered better design and a better fit, things that sometimes fall to the wayside in the pursuit of ultimate comfort."
Find out more about Hoodsie at: http://bit.ly/hoodsieco
The Pima Collection, which consists of lightweight and midweight options and are by far the fan favorites, will be getting two new colorways for every additional $10k raised. Hoodsie has started this initiative at the $25k mark, introducing a new lightweight and a new midweight design. If the campaign reaches $35k, two more colourways will be released. "We are responding to the popularity of the original Pima Cotton product by offering more options to our backers," says Hoodsie cofounder, John Douglas. Hoodsie's Kickstarter campaign began Dec 8th and will end on Jan 12th. They have already successfully funded $25,000, which will fund the first production run of Hoodsies but they are looking for more funding to increase Hoodsie's product offerings.
The campaign rewards include the Brand's core Pima Collection - Lightweight Jersey and Midweight Fleece, both made from 100% Pima Cotton and priced at $65 and $85 respectively. Also on offer are three Kickstarter Exclusives that are made in the U.S.– the luxurious Heavyweight Terry ($150), the show stopping 24k Gold Hoodsie ($100) and stretchy, waterproof Outdoorsie ($140).
Find the media kit here https://www.dropbox.com/sh/ika2av4mbgzeu77/Iv2ZV2087b
The 24k Gold Hoodsie is made of shiny, stretchy gold lame and is a surefire way to get noticed when you want to take the comfort of Hoodsie out on the town. Don't miss the Kickstarter video featuring company founder John Douglas wearing the 24k Gold Hoodsie as he makes his hip hop debut.
About Hoodsie
Hoodsie (http://www.hoodsie.co) is an innovative apparel company founded by Lisa Carole and John Douglas. They previously worked in the fashion world but decided to focus on a single-cloth garment from top to bottom as their onesie-true-passion. They wanted to create a clothing line that was all about fun. They aim to build a lifestyle brand around that goal.