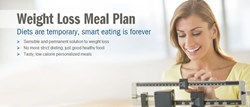 The best diet contains a balance of nutritious meals that will give you the weight loss results you need and desire.
Halifax, NS (PRWEB) January 02, 2014
With the New Year upon us, George Borovan, health advocate and CEO of MealEasy/Noviden Technologies, has thrown down the gauntlet to all Americans with a weight loss resolution.
The Company has extended a MealEasy challenge to anyone making a 2014 weight loss resolution. "The goal is to encourage and inspire dieters to select MealEasy's new life-altering Weight Loss meal plan instead of some of the more health-endangering fad diets".
Studies conducted at the University of California found that after two years approximately two-thirds of dieters regained all, or more of the weight back. Research has also linked "yo-yo" dieting with potentially life threatening diseases such as diabetes, depression, heart disease and cancer.
"Fad celebrity diets won't fix a lifetime of weight gain," said Borovan. "The best diet contains a balance of nutritious meals that will give you the weight loss results you need and desire."
A study published by the "Journal of Psychosomatic Research" confirms the importance of changing food behaviors. The test subjects who received additional meal plan support and behavioral therapy kept weight off longer than those who exercised.
With MealEasy, all recipes follow nutritional guidelines - that when followed as intended - will help people lose weight. In addition, there are no food restrictions. Members are given a large variety of healthy meals to choose from, based on delicious recipes created and tested by their in-house chef.
"It's refreshing to see celebrities like Christina Aguilera shed weight with a well-balanced diet, yoga and personal training," said Borovan. "Having control and eating sensibly is the key to permanent weight loss."
The newly released MealEasy Weight Loss Meal Plan was designed around the benefits of "mindful eating". It's based on the premise that sensible, controlled eating and regular exercise are vital to prolonged weight loss success.
Researchers at the University of Scranton (Journal of Clinical Psychology) confirmed that 45% of Americans make New Year's Resolutions - 38% of which are weight loss related.
MealEasy is an ideal way for people discouraged with the yo-yo affects of typical fad diets to support their New Year's Resolutions. The MealEasy Weight Loss Meal Plan focuses on creating smart and careful eating habits, to achieve sustainable, long-term health benefits.
===================================================
MealEasy.com (a brand of Noviden Technologies) is a family business owned and operated by George and Brent Borovan.
Since 2008, MealEasy.com has been on a mission to help and educate people about the foods they eat. They collaborate with health professionals and nutritional experts to ensure that nutritional guidelines are followed.
Much more than a recipe site, MealEasy will help you plan, shop and prepare deliciously healthy meals. All recipes are prepared by a certified chef and have been tested inside the MealEasy kitchen.
Users enjoy unrestricted use of the meal planner, automatic grocery list generator and an uncluttered advertisement free web application.
For more information contact:
George Borovan
Noviden Technologies Inc.
Email: info(at)noviden(dot)com
Phone: 1 902 4520505
http://www.noviden.com
http://www.mealeasy.com