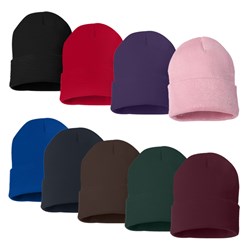 "I have so much fun shopping on LaughingLizards.com, their selection of appliques and prices can't be beat, not to mention all the extra items they have added lately!" -Gloria R., Denver, CO
Garden Grove, CA (PRWEB) January 03, 2014
Laughing Lizards Embroidered Patches and Rhinestone Appliques, based in Southern California, has just released a new section of their website which includes knit winter beanie caps already decorated, covering a very wide variety of interests. The wholesale and retail applique company has been a leader in the iron on patch and appliques industry for over 25 years. In review of the large variety of iron on patches and rhinestones on the website, it is easy to see why. The variety of appliques is really hard to beat, with all their iron on embroidered patches listed in neat categories and sub-categories in the iron ons listings which allow you to filter products based on theme, type and/or price range.
Now customers can purchase their favorite patches already pressed on a nice warm knit beanie or shirt at a low cost. If customers prefer the D-I-Y approach, the site also sells a variety of blank items you can purchase to make your own shirts, youth shirts, baby onesies as well as tote bags and blank beanies in 2 styles.
As a parent, looking for a kids' party activity, one can purchase bags or beanies with multiple embroidered iron on patches and rhinestones in one place. It's fun to let the kids choose which appliques they want to put on their own "design-a-bag-or-beanie"! Have the kids place the items where they want, and an adult presses with a household iron for 30-40 seconds! Walla, fun and entertaining kids party activity and wonderful worth-while take away gift.
Category's of appliques on the website range from Children's patches, Iron on letters, religious appliques, Disney Patches, Iron on star patches, poodle appliques, 50's appliques, band patches, morale patches, biker backpatches, and themed appliques you can use for fun for representing events for Girl Scout Troop patches or Boy Scout Troop patches. They offer environmental patches and anti-bullying patches which come in handy after Scout Troop workshops on the subjects.
With the expansion of product offerings of blanks such as t-shirts, beanies, tote bags, loose rhinestones, as well as already decorated items, adds a very convenient one-stop shopping feel for the customer.
Whether someone is looking for a d-i-y project, looking to theme up a set of baby quilt and baby drapes, cover a hole in that rug-rats jeans for the 5th time, or cover a hole or stain on the favorite shirt they don't want to throw away, they will find something here. This site has patches for everyone and patches for everything!
They also offer discounts when you buy in qtys of 25 or more the same item which comes in handy for those who are handy creative boutique owners looking to personalize items to sell. Any customer will gladly bookmark this site as a favorite for patches and appliques!