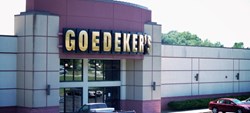 Ballwin, MO (PRWEB) January 02, 2014
A college education is important, but the process of pursuing a degree presents a financial challenge to most students. That is why Goedeker's, a St. Louis area home appliance and furnishings retailer, is announcing a new scholarship for current students to continue their education.
"A college education is an important part of a bright future," said Goedeker's owner, Steve Goedeker. "Not only for the individual student, but for their family, their community, and their country. We want to provide support and encouragement on this difficult and critical undertaking."
Goedeker's is awarding a $500 college book scholarship and two $100 book scholarships for three students who can demonstrate to use their commitment and understanding to the importance of the college education they are pursuing and their field of study.
Entrants should have a 3.0 GPA or better, and send us a 300 word essay on why attending college and your major are important to them. A valid student ID for the spring semester is also required to prove current enrollment. Any student enrolled in an accredited college is eligible to enter for the scholarship competition.
The deadline for entries is July 31, 2014, and the winners will be announced in August.
For more information on the scholarship and instructions on how to enter, visit http://www.goedekers.com/college-scholarship.
About Goedeker's
Goedeker's is a family owned and operated home goods retailer located in the St. Louis, Missouri, suburb of Ballwin. First established in 1951 as an electronics repair shop, Goedeker's has grown to be one of the largest, most trusted independent retailers of home appliances, furniture, mattresses, and plumbing supplies online. For more information, visit http://www.goedekers.com/.