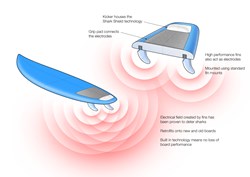 Shark Shields' new surfboard shark deterrent will have no impact on current surfboard manufacturing or the shaping design processes, and zero to minimal impact on surfboard performance.
(PRWEB) January 02, 2014
The manufacturer of Shark Shield, the world's only scientifically proven and independently tested electronic shark deterrent, has been awarded a Western Australian State Government Grant to develop a surfboard shark deterrent.
Shark Shield and two WA universities have been awarded $967,161 in the second round of applied research funding as part of the State Government's Shark Hazard Mitigation Strategy.
The Shark Hazard Advisory Research Committee (SHARC), chaired by Chief Scientist Lyn Beazley, recommended four proposals for funding from a strong and impressive field of applicants.
Premier and Science Minister Colin Barnett said WA company Shark Shield Pty Ltd would be awarded $300,000 over two years to develop new surfboard fins with an in-built electronic shark deterrent. It is intended to develop a deterrent device that can be retro-fitted to all modern surfboards.
Lindsay Lyon, Shark Shield's chairman and himself a keen surfer, stated: "Our new surfboard shark deterrent will revolutionize the surfing industry and is the first major innovation in surfing since the Simon Anderson Thruster and removable fins from FCS. Everyone will again be able to confidently surf any break without the intimidation or fear of sharks," he said.
Mr Lyon added: "Shark Shields' new surfboard shark deterrent will have no impact on current surfboard manufacturing or the shaping design processes, and zero to minimal impact on surfboard performance."
He said the patented innovation leveraged the surfboards fins as electrodes, and used the fin plug systems to electrically connect the electrodes (fins) to the power source mounted in the kicker of surfboards grip pad. "Like all good inventions its design and implementation is simple," Mr Lyon said.
Not only will the new deterrent protect the surfer, but multiple surfers will create a virtual electronic shark barrier. The surfers will appear like an electronic mine field to sharks so all beach goers will benefit from this innovation.
The miniaturized electronics, weighing less than 150gms with a user-replaceable four-hour battery life, will clip in and out of the grip pad kicker so surfers can easily move the device between boards. The fins can also be moved between boards in the same fashion as today. The company plans to work with Material Scientist at the Commonwealth Science Industrial Research Organisation (CSRIO) to ensure the fins exceed surfer's performance expectations.
The company expects the new product to be shipping in early 2015 with a retail price of between US$499 and US$599.
The International Shark Attack File claims the number of worldwide unprovoked shark attacks has grown since 1900, with each decade having more than the previous. Surfers are often on the wrong end of this statistic, as reported on CBNnews.com on 26th October 2013 a surfer lost his leg in a shark attack off Reunion Island. There have been 12 shark attacks in Reunion Island, five deadly.
Reunion Island is not alone with shark attacks last year in Hawaii, California, Florida and Australian where late last year a surfer lost his life to a shark attack as reported by the ABC News.
In October 2013, Shark Shield released compelling research video that showed Shark Shields being tested off the coast of South Africa using towed seal decoys — a test that closely resembled a shark attacking a moving surfboard.
When the Shark Shield was turned off, there were 16 breaches and 27 surface interactions. When turned on, there were no breaches and only two at-surface interactions, clearly demonstrating the efficacy of the Shark Shield deterrents.
All chondrichthyes — sharks, rays, skates and chimeras — possess ampulla receptors in their snouts that are used to find food, communicate and find a mate.
An electronic shark deterrent consists of two electrodes that use salt water as a conductor between the two, creating an electrical field that deters sharks. It is the electromagnetic field between two electrodes that disturbs these receptors with what has been described as a "lightning fast pain of whale-like proportions".
These receptors are tuned to low-frequency fields and only operate when in close proximity with food — or a surfer. Mr Lyon said the claim that electronic shark deterrents attracted sharks was "a complete myth".
"The ampulla receptors maximum sensing distance is well under a meter, and as electrical currents between two localized electrodes simply cannot travel any distance through water, it's an impossibility that would defy the laws of physics and biology," he explained.