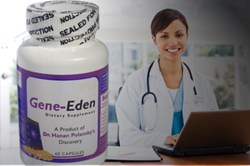 at polyDNA always prefer a systemic treatment over a local treatment. This is especially true for treatments that target latent viruses. – Mike Evans, polyDNA
Rochester, NY (PRWEB) January 10, 2014
Laser treatment is now being used for the treatment of oral herpes. Scientific literature shows that laser treatments appear to be safe and effective in reducing pain, inflammation, and can enhance healing. In fact, a study published on April 13, 2013 found that "When these lasers are used, a 'cascade of cellular events accelerates cell proliferation, which promotes healing (2).'" The study explains how these lasers work, saying that they are based "either on heat production (high-power lasers) or on the photochemical and photobiological effects of laser light (low-power lasers or 'defocused' high-power lasers) (2)."
They wrote further that, "Low powered lasers can be used in the treatment of oral manifestations of HSV recurrences at different manifestation times, such as the prodromic (an early set of symptoms that might indicate the start of a herpes outbreak), disease before latent, and crust (reactivated virus) phases (2)."
Dr. Phil Harrington, an employee of K-Laser USA spoke about how the lasers work to help heal cold sores. "When we look at the basic mechanism of how it works, we are enhancing the microcirculation. We are getting more red blood cells flowing to the area. But it's not just the arterial blood supply to the area; we are enhancing the venous and the lymphatic return from the area. We're also increasing oxygenation of those tissues. We are stimulating the hemoglobin molecule to dump off oxygen at the treatment site, so we are increasing the oxygenation of those tissues (1)."
A major disadvantage is that the laser treatment does not target the virus. It only stimulates the cells around the cold sore. In simple terms, it's a local treatment directed toward the patient's tissues and not the virus. In contrast, Gene-Eden-VIR helps the immune system target the latent virus everywhere in the body. polyDNA, therefore, recommends Gene-Eden-VIR against the latent herpes virus. This natural product was clinically proven to reduce symptoms of a herpes infection in a study that followed FDA guidelines.
"We at polyDNA always prefer a systemic treatment over a local treatment. This is especially true for treatments that target latent viruses." – Mike Evans, polyDNA
In a post marketing clinical study published on August 12, 2013 in the medical journal Pharmacology & Pharmacy in a special edition on Advances in Antiviral Drugs, researchers showed that Gene-Eden-VIR is safe and effective (4). Additionally, up to 70% of those studied reported a decrease in viral symptoms, and users experienced an increase in overall health (4).
Each ingredient of Gene-Eden-VIR was chosen through a scientific approach. Scientists scanned thousands of scientific and medical papers published in various medical and scientific journals around the world to identify the safest, most effective natural ingredients that target the latent form of HSV-1 (4).
To learn more about Gene-Eden-VIR and herpes, visit: http://gene-eden-kill-virus.com/Herpes-Remedy.php. All orders of Gene-Eden-VIR are completely confidential, and no information is shared or sold to any third party. Privacy is assured.
Reference:
(1) Discover the Benefits of K-Laser Class 4 Laser Therapy Treatments. Published on July 28, 2013.
http://articles.mercola.com/sites/articles/archive/2013/07/28/k-laser-benefits.aspx
(2) Laser treatment of recurrent herpes labialis: a literature review. Published on April 13, 2013.
http://www.ncbi.nlm.nih.gov/pubmed/23584730
(3) Gene-Eden-VIR Is Antiviral: Results of a Post Marketing
Clinical Study. Published on August 12, 2013.
http://gene-eden-kill-virus.com/PP_Gene-Eden-VIR-is-Antiviral.pdf
polyDNA is a biotechnology company that develops dietary supplements using the unique scientific method developed by Dr. Hanan Polansky, which is based on Computer Intuition.
In addition to his unique scientific method, Dr. Polansky published the highly acclaimed scientific discovery, called Microcompetition with Foreign DNA. The discovery explains how foreign DNA fragments, and specifically, DNA of latent viruses, cause most major diseases.
polyDNA developed Gene-Eden-VIR , an antiviral natural remedy that helps the immune system kill latent viruses.