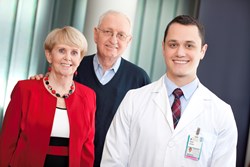 "Jim's life was saved by a UVA medical student, no doubt about it." -- Louise Malloy
Charlottesville, VA (PRWEB) January 02, 2014
For years, retirees Jim and Louise Malloy have enacted a wide range of physical maladies in their role as "standardized" patients at the University of Virginia School of Medicine. Standardized patients help to prepare medical students for their future interactions with patients in hospitals and clinics.
For Jim, his role as a standardized patient recently proved lifesaving.
In March, Jim was assigned to play a patient with an abdominal aortic aneurysm (AAA), a condition in which a small section of the lower aorta begins to balloon. Common in men between 65 and 75 years old, such aneurysms can easily go undetected and can be fatal if they burst.
While the training session was meant to be pretend, student Ryan Jones of Danville, Va., reported that he both heard and felt the symptoms of an actual AAA. That information led the physician overseeing the session to suggest to Jim that he schedule an appointment with a cardiologist.
The Malloys, who live in Crozet, Va., and have seven grown children, say life was busy at that time, and a few months went by before Jim actually made the appointment. When he was finally checked, he learned that he did indeed have an AAA, which was large enough to be of concern. He underwent stent placement surgery at the University of Virginia Medical Center in August and is now doing fine.
Admitting she was terrified by Jim's diagnosis, Louise is thankful the AAA was discovered in time. "Jim's life was saved by a UVA medical student, no doubt about it," she said.
For his part, Jones was unaware that his astute diagnosis had set off the sequence of events that led to Jim's surgery. In August, Louise was on a standardized patient assignment when she saw Jones and expressed her appreciation.
"I was surprised to learn what had happened," Jones said. "It feels great to know that I made a difference." The future doctor is now interviewing for residency slots and plans to become a radiation oncologist.
Louise hopes that all medical students learn from Jim's experience. "Don't ever think you can't affect a life," she said. "My husband, Jim, is living proof that you can."