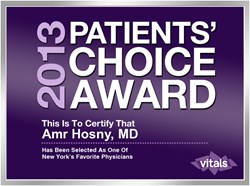 New York, NY (PRWEB) January 03, 2014
It is with great excitement that we once again announce the selection of Dr. Amr Hosny, of New York Pain Care, as a favorite in the 2013 Patients' Choice Awards by Vitals.com.
Each year, hundreds and thousands of patients have the ability to vote for their favorite doctors found throughout various cities and towns in the United States. It takes a lot for a particular healthcare professional to make a unique impact on the lives of individuals, and in a society that often values profits at the expense of the common good, finding a friendly, caring, knowledgeable and cutting-edge healthcare professional is a rarity.
Dr. Amr Hosny, with over 14 years of experience, had been selected by various patients for meeting and exceeding those expectations. With his courteous staff, fantastic bedside manner and willingness to follow up with the patient and show individual care, the results were to be expected.
As New York Pain Care heads into 2014, Dr. Amr Hosny looks to continue his dedication towards delivering results that patients will continue to love.