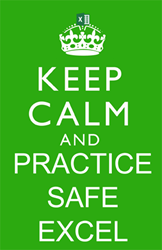 This webinar will help those using Excel to significantly reduce the potential of erroneous errors creeping in.
Jersey City, NJ (PRWEB) January 06, 2014
The Practice Safe Excel webinar is aimed at those who use Excel for key business tasks and cannot afford manual errors creeping in, potentially leading to financial or reputational losses.
Clear Analytics will kick-off the series at 2 p.m. Wednesday, Jan. 15. Led by Dipak Bhudia, who has over 13 years of firsthand experience in bringing safety and controls around the use of spreadsheets in the enterprise. The first hour long session will focus on the best practices of Microsoft Excel in the business and reducing the risks of human errors occurring.
"Whilst spreadsheets provide an invaluable amount of freedom and flexibility to model and analyze your key business processes, the negatives can far outweigh the positives when you lack supervision and some basic best practices"
Consultants in the field will walk attendees through the main types of errors which occur in Excel and the best measures that can be taken to avoid them.
The goal is to create a more accurate reporting environment by increasing proficiency with Excel.
Future Webinar sessions will cover features both native to Excel and enhanced by Clear Analytics to better automate the importing of data and reducing the proliferation of spreadsheets.
Guests can register for the Clear Analytics' webinars by visiting http://www.clearanalyticsbi.com/webinars.
About the Company
The team at Clear Analytics has over 20 years of experience in delivering cutting edge business intelligence solutions to enterprises that demand the freedom to self-serve and never wait on IT. The team's mission is to empower businesses with simple and elegant solutions that allow them to answer their own questions and collaborate insights without the need for IT. For more information about Clear Analytics, visit their website at http://www.clear-analyticsbi.com/.