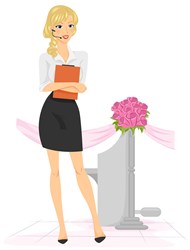 Wedding season is approaching. To help wedding coordinators deal with the upcoming influx of business, GetUSales has released a strategically designed set of automated marketing campaigns for wedding coordinators.
(PRWEB) January 02, 2014
Wedding season is approaching fast. To help wedding coordinators handle the influx of business that occurs in springtime, GetUSales has released a line of automated marketing campaigns designed just for wedding coordinators.
With these automated marketing campaigns, wedding coordinators can avoid the stress of juggling multiple contacts, trying to capture new leads and following up with new customers. GetUSales' automated system handles all that and more in just a few simple steps.
How do automated marketing campaigns work?
GetUSales' automated marketing campaigns come with pre-written marketing emails chock full of valuable, educational information. By providing contacts with useful information instead of annoying junk mail, these emails will not only get read, but they will be looked forward to! Giving contacts information they can actually use builds the trust they will need to eventually book a wedding venue.
Once contacts are loaded into the Infusionsoft database (the software that implements the campaigns and manages contacts), they are connected to the email marketing campaigns most relevant to them. These emails go out at pre-determined intervals of time automatically, so no matter how busy a wedding coordinator's schedule gets, their leads will be nurtured and their brides kept informed 24/7/365.
Wedding coordinators can peek into the system at any time to see where contacts are in their campaigns, which links they clicked, which videos they watched, where/when/if they dropped out of their campaign, and so much more. This information shows which leads are "hot" and need to be contacted directly and is also an invaluable tool for creating new marketing strategies in the future.
Automated marketing campaigns for wedding coordinators
1. New Lead – Expressed Interest Campaign – This campaign builds value in the venue and provides specific information, testimonials, example videos and photo galleries of previous weddings. This campaign's goal is to get the bride to schedule a tour.
2. Appointment Follow-Up Campaign – This campaign automatically follows up with brides who have toured the venue, adding value and answering questions with the goal of getting the bride to book the venue.
3. Contract Follow-Up Campaign – This campaign delegates tasks to ensure timely payments and make sure the bride is on top of all the critical tasks necessary for planning her wedding.
4. Wedding Survey and Testimonial Request – This post-wedding campaign surveys the bride on her experience and collects a testimonial, photos and videos for use in future marketing materials.
5. Refer A Friend Campaign – The campaign rewards brides who introduce other prospective brides.
6. Special Announcements – Anniversary Campaign – This campaign reaches out to past brides for holidays and anniversaries to remind them of opportunities to use the venue again.
How to get started with automated marketing campaigns for wedding coordinators
GetUSales' team of expert Internet marketing strategists and designers helps wedding coordinators streamline their business processes every day. These automated marketing campaigns for wedding coordinators are ready-made and quick to set up. To get started with an automated marketing campaign, call GetUSales today at 855-834-4850 or visit http://www.getusales.com.