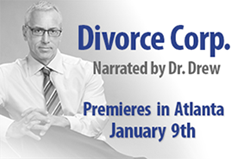 Atlanta, GA (PRWEB) January 02, 2014
Divorce statistics in the United States remain staggering, and the explosion of filings has resulted in a new $50 billion market that, like other relatively unregulated industries, has resulted in systemic abuses. The new documentary film, "Divorce Corp." narrated by eminent therapist Dr. Drew Pinsky tracks cases across the nation to expose routine practices by family court judges, lawyers and court appointed professionals that breach ethics and, in some instances, rise to the level of public corruption.
The movie opens this month in 16 American cities. My Advocate Center (M-A-C) is hosting the world theatrical premiere of "Divorce Corp." at Atlanta's LeFont Theatre on Thursday, January 9, 2014 at 6:30 PM. Established as a community service organization to support child custody dispute resolution, M-A-C has been tracking family court cases. Executive Director Deb Beacham said, "Divorce is a reality, but it should not bankrupt and permanently destabilize families. This film provides a platform for an important national dialogue that advocates around the country have wanted for years."
The movie has generated a significant amount of controversy on its own. Some women's rights organizations maintain that it weighs too heavily on father's rights issues and some have called for a boycott of the film. "We do not disagree with many of the concerns expressed by some of the film's opponents, but we feel this is a great opportunity to bring many voices to the table to have a very important dialogue," said Ms. Beacham. "The need for reform is dire. Working together on that goal will preserve everyone's rights and, more importantly, serve the best interests of the children who are too often used as pawns in the process."
My Advocate Center is organizing a town hall in the theatre immediately before the January 9 Atlanta screening. It will include a moderated discussion with family court attorney Lisa West (who gained national media attention for representing the former wife of Grammy® winner Usher Raymond) and psychologist Dr. Karin Smithson, a ChildKind honoree. The panel will address key topics raised by the film and answer audience questions.
Fact sheets on the film, the issues presented, the narrator Dr. Pinsky, the panelists and My Advocate Center are available at http://www.MyAdvocateCenter.com . You can watch film trailers and learn about the producers at http://www.DivorceCorpmovie.com.