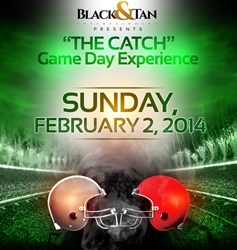 "With the Super Bowl coming to NYC for the first time, I am excited to be involved with this incredible event and also pleased to see that Autism Speaks has been chosen to receive a portion of the event proceeds." - Joe Montana
New York, NY (PRWEB) January 06, 2014
Black & Tan Entertainment announces "The Catch" Game Day Experience, an interactive football fan event that will be held on Sunday, February 2, 2014, at Edison Ballroom located at 240 West 47th Street from 4 p.m. to midnight. http://www.blackandtanentertainment.com
"The Catch" Game Day Experience, titled after one of football's most historic plays, will honor several football legends including, four-time Super Bowl Champion and three-time Super Bowl MVP, Joe Montana, two-time Super Bowl Champion, Dwight Clark as well as two Super Bowl Champions from the New York Giants, Howard Cross and Sean Landeta. The eight-hour football extravaganza will include a VIP meet and greet and pregame analysis by Montana and Clark, over 20 flat screen TVs to watch the big game and a silent auction filled with some fantastic sports memorabilia provided by Go Charity, Inc. Moreover, a few lucky guests will be able to catch a pass from Montana at halftime.
"We are really excited to be hosting this event at such a fantastic venue and are elated that some amazing football legends will be joining us. It is sure to be a one-of-a-kind experience that no football fan would want to miss," says Darran Brown, President of Black & Tan Entertainment. "We are thrilled to be a part of this event and appreciate the effort of Black & Tan Entertainment to raise awareness and funds for our cause," said Alec Elbert, Chief Strategy and Development Officer at Autism Speaks. "The proceeds from the auction will go towards Autism Speaks' innovative research and advocacy initiatives for the 1 in 88 people affected by autism."
"With the Super Bowl coming to NYC for the first time, I am excited to be involved with this incredible event and also pleased to see that Autism Speaks has been chosen to receive a portion of the event proceeds," says Super Bowl Champion, Joe Montana.
A portion of the ticket sales and proceeds from the silent auction will benefit Autism Speaks. General admission tickets start at $300 and will include a premium open bar and various food stations prepared by Chef Mina Newman.
MORE ABOUT BLACK & TAN ENTERTAINMENT:
Black & Tan Entertainment is a premier sports and entertainment event production company based in New York City that produces extraordinary, high profile events across the country. With over a decade of experience in the industry and with our longstanding relationships with athletes, celebrities and sponsors, we are able to develop unique and unforgettable fan experiences and events. Our focus is on creating events that incorporate some of the biggest names in sports and entertainment along with some of the biggest brands. We understand the importance of brand awareness and can ensure that our event sponsors get the attention that their brands deserve. Our high profile events garner top-tier media attention, making it a great opportunity for our sponsors to be in the forefront of the public eye. http://www.blackandtanentertainment.com
MORE ABOUT AUTISM SPEAKS:
Autism Speaks' mission is to change the future for all who struggle with autism spectrum disorders. Autism Speaks is dedicated to funding global biomedical research into the causes, prevention, treatments and a possible cure for autism. Autism Speaks strives to raise public awareness about autism and its effects on individuals, families and society and works to bring hope to all who deal with the hardships of this disorder. Autism Speaks is committed to raising the funds necessary to support these goals. Autism Speaks aims to bring the autism community together as one strong voice to urge the government and private sector to listen to its concerns and take action to address this urgent global health crisis. It is Autism Speaks' firm belief that, working together will help find the missing pieces of the puzzle. http://www.autismspeaks.org
For tickets and sponsorship inquiries, contact: Darran Brown - Black & Tan Entertainment
db@blackandtanentertainment.com (646) 237-6140.
For media opportunities, contact: MJ Pedone - Indra Public Relations
MJ@indrapr.com (646) 593-7217. http://www.indrapr.com