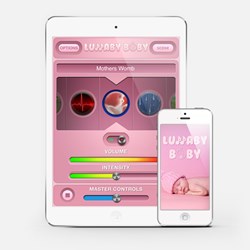 I love how you can add sounds over the classic lullabies and control the intensity of it. Great app to help get the little one to sleep.
(PRWEB) January 03, 2014
What parent of a newborn child hasn't wished for a good night's sleep, for their baby and themselves?
Sleepless nights are all too common with young children, an issue that Lullaby Baby has been designed to alleviate.
Through creating a soothing sonic landscape with songs and familiar sounds, this new app can help babies drift off to sleep, and provide their parents with some welcome respite.
Providing a fully customizable user selection, Lullaby Baby offers parents ten specially designed soundscapes, including Mother's Womb, and Rain drops, as well as a range of classic nursery rhymes such as Twinkle Twinkle Little Star and Rock-a-Bye Baby.
Once a sound is selected, parents can control the intensity, and even set up an automatic fade-out as the child falls asleep.
Lullaby Baby can also soothe babies back to sleep if they wake up during the night, ensuring a good night's sleep for both infant and parent.
The app can be programmed to fade back in when it detects a child waking, gently comforting them and surrounding them with familiar sounds.
Lullaby Baby – Sounds To Help Your Child Sleep is now available on iTunes, and is compatible with iPhone, iPad, and iPod Touch. It costs USD 99c and is available in 10 languages - English as well as Russian, French, Spanish, German, Italian, Portuguese, Korean, Japanese and Chinese.