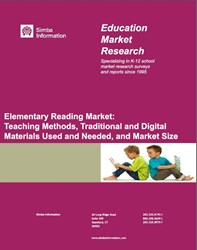 Rockville, MD (PRWEB) January 08, 2014
Elementary Reading Market: Teaching Methods, Traditional and Digital Materials Used and Needed, and Market Size
In order to provide objective, research-based information on current trends in the elementary Reading market segment, EMR designed a detailed market survey, and then mailed it [in October 2013] to 22,000 Classroom teachers (grades K-5/6), Reading teachers (grades K-8/9), English/Language Arts teachers (K-8/9), and district Curriculum Supervisors.
Issues to be investigated in the course of this study included the following: Current trends in the elementary Reading market segment, in terms of preferred instructional strategies, and materials most frequently used; Which textbooks and other core and supplemental materials are used most often at different grade levels, and how they are perceived by teachers; Progress towards implementation of the new Common Core standards and related assessments; Market gaps which exist for Common Core aligned curriculum materials in the English/Language Arts areas of literature, informational text, phonics & word recognition, fluency, writing, speaking & listening, and language; Resources, decision makers, spending plans, and selection criteria related to Response to Intervention (RTI); Percent of class time spent using digital tools and/or digital content; Reading-related web sites used or recommended for student use and/or for teacher resources; The level of discretionary funds spent on trade books, workbooks, software, and other nontextbook materials.
To order this report:
Elementary Reading Market: Teaching Methods, Traditional and Digital Materials Used and Needed, and Market Size
Contact: Shauna
800.298.5699
Customerservice(at)marketresearch(dot)com
Simba/Education Market Research
Venerable education industry analyst firms Simba Information and Education Market Research (EMR) team up for a series of reports that analyze the U.S. K-12 school market in all of it facets – textbooks, supplemental materials, computer hardware, software, video, online – and in each of its grade levels and major curriculum areas.
About MarketResearch.com
MarketResearch.com is the leading provider of global market intelligence products and services. With research reports from more than 720 top consulting and advisory firms, MarketResearch.com offers instant online access to the world's most extensive database of expert insights on global industries, companies, products, and trends. Moreover, MarketResearch.com's Research Specialists have in-depth knowledge of the publishers and the various types of reports in their respective industries and are ready to provide research assistance.
Follow us on Facebook: http://www.facebook.com/marketresearchdotcom.
Follow us on Twitter: http://www.twitter.com/marketresearch_.
Elementary Reading Market: Teaching Methods, Traditional and Digital Materials Used and Needed, and Market Size - Table of Contents:
TABLE OF CONTENTS
EXECUTIVE SUMMARY
INTRODUCTION
METHOD
ANALYSIS OF RESULTS
Response Rates And Demographics Of Survey Sample
The Current Role Of The Core/Basal Reading Textbook
Age Of Currently Adopted Programs
Satisfaction With Currently Adopted Reading Programs
Trends In Core Reading Series Usage
Reading Textbooks Currently Adopted
Suggested Improvements To Currently Adopted Reading Programs
Alternatives To The Core Reading Series
Curriculum Materials Needed To Address The Common Core Objectives
Reading Assessment Practices
Reported Progress Implementing The New Common Core Standards And Assessments
Leading Common Core Providers: Curriculum Materials And Professional Development
Leveling Systems
Response To Intervention (RTI)
The Shift To Digital In The Reading Market Segment
Most Popular Reading-Related Web Sites For Student And Teacher Use
Expenditures For Reading Instructional Materials/Market Size
Adoption And Open Territory States: Comparison Of Reading Program Patterns
SUMMARY AND CONCLUSIONS