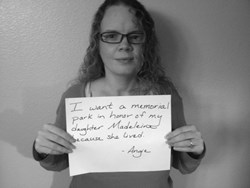 I want a memorial park in honor of my daughter Madeleine because she lived.
Manchester, NJ (PRWEB) January 04, 2014
Near the end of September 2013, Somewhere Over the Rainbow business owner Katy Larsen began the task of compiling a book of over 60 families' journeys through loss towards hope. Each family had been dealt the hand of the loss of a child through Pregnancy or Infant Loss. It was inspired by the loss of her own daughter, Hannah Katherine, in September 2009. Hannah is also the inspiration behind the shop itself and the reason it even exists. Katy wanted to be able to offer comfort to other families in showing them they were not alone. She also wanted the voices of the families in the book to be heard. So much more has come of it since it was released on October 15, 2013. The book is entitled, "Because They Lived: a collection of little lives that changed the world."
"I have been blessed and inspired by 'Because They Lived.' Katy allowed me to help by editing the book before its release; reading these stories of my friends and people I didn't know, and what their babies mean to them, touched my heart greatly," Angie DeWaard, an author in the book, stated.
An Indiegogo Campaign was launched along with a pitch video. It was powerful to see these mothers and their goals and dreams through sharing the lives of their babies. Katy herself wanted to reach families with bereavement materials and copies of the books. This dream is already being fulfilled as she has sent out hundreds of bereavement care materials and donated close to 50 books. Other mothers have also donated books to help reach others.
Angie Dewaard of Iowa served as one of two editors in helping Katy to compile the book. In her pitch video picture she stated, "I want a memorial park in honor of my daughter Madeleine because she lived." And a memorial park she is getting.
"I contacted our city's Parks and Recreation Committee, as well as the City Council. My idea was to either add a new park or add on to an existing one to create a children's memorial area. The idea was to be able to purchase bricks or trees, maybe benches in our children's memories. This way our babies' names could live on in other memories besides just ours."
"This park was passed on December 21, just before Christmas. Katy's book allowed me to give my Madeleine a Christmas present in a way I haven't ever been able to do before," stated Angie.
What an amazing gift.
"When I first envisioned the book, it was just that---a book. But it is so much more than that. To have that change, that impact, in just a few short months is HUGE. I look forward to seeing what other changes it makes in the loss community in this year to come," stated Katy.
It is true proof that these little lives matter and even though they are not here, great things can become of them. Because they lived.