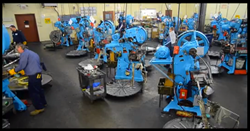 ...Customers do not have to sacrifice quality for quantity or pricing.
Hauppague, NY (PRWEB) January 06, 2014
When considering a large-scale infrastructure project, military or aerospace application or even a sophisticated household appliance, it is easy to overlook the various components that make up these applications. When a customer needs affordable pricing, they often seek parts from overseas markets, sacrificing quality for low costs. In light of Superior Washer's new manufacturing capabilities, customers do not have to sacrifice quality for quantity or pricing.
Washer and shim manufacturer, Superior Washer's first priority is to provide the right supply for their customers. For this reason, they have expanded their manufacturing capabilities to provide flat washers and other washer types in any quantity with delivery from stock to a 5 day production period. With newly incorporated tooling and machining equipment, the U.S. based manufacturer can produce and ship even greater quantities of washers with increased efficiency and pricing that can compete internationally. This eliminates excess or wasted components and minimum order requirements. For customers, it means they no longer have to look outside the U.S. to find the most aggressive pricing.
The new machining and tooling capabilities further extend Superior Washer's product selection to small businesses, retailers, engineers, and even homeowners and hobbyists who may require a small quantity of washers. Any company in need of washers for their own processes and equipment can order a few washers for replacement, adjustment, maintenance, customization or repair quickly and directly through Superior Washer & Gasket's website.
Superior Washer & Gasket Corp. is taking on foreign markets and keeping the cost of American made washers down by offering the unique advantages of saved time, cost and budget on industrial, military, defense, aerospace, and even medical and commercial applications. "Because of our new tooling and machinery, Superior is now more competitive on large production runs—allowing us to better compete with overseas markets," said Superior Washer & Gasket CEO, Allan Lippolis. The new tooling and machining capabilities have helped Superior Washer & Gasket Corp. to remain a leading, U.S. manufacturer of washer and shims. This investment and implementation have fed the company's optimism with regard to their role in America's manufacturing revival.
For more information on Superior Washer & Gasket Corp.'s complete selection of washer and shims, as well as their versatile and speedy stamping, production and shipping capabilities, visit http://www.superiorwasher.com.
About Superior Washer & Gasket
Superior Washer & Gasket Corp. is a U.S. based manufacturer of washers and shims, which are stamped in standard and specialty shapes and sizes from a wide variety of materials. The company's extensive stock is available through their online catalog. Custom washers and shims can also be specified through a quick quoting process.