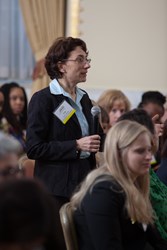 Washington, DC (PRWEB) January 02, 2014
WTS International, the association for the global advancement of women in transportation, congratulated Bill de Blasio, New York City's new mayor, on his choice of Polly Trottenberg for DOT Commissioner. Trottenberg, who is leaving her post as Under Secretary for Policy at the U.S. Department of Transportation, replaces another powerful woman leader in transportation, Janette Sadik-Khan, who served six years as Commissioner under Mayor Michael Bloomberg.
Marcia Ferranto, President and CEO of WTS International, said today, "WTS recognizes Mayor de Blasio's decision to appoint another woman to NYC's Transportation Commissioner post. Appointments such as these impact the future of the industry as they help attract more women to the transportation field and leadership roles in the public sector. It's important for young women and men in the field to be able to look up and see women in leadership roles. Workforce development strategies that advance women help grow a more gender-diverse industry and close the growing gap between the thousands of jobs that will be open in transportation over the next several years and the number of qualified professionals to fill them."
In addition to Trottenberg's depth and breadth of experience in the public sector on both the federal and local levels and her accomplishments as a policy expert, she is also a valued member of WTS International, where she has served in key roles on strategic committees, the WTS Executive Women's Roundtable, and as a speaker at the organization's international annual conference. "Throughout her career, Polly Trottenberg has been a champion for the advancement of women; she joined WTS in an effort to identify how to get more women into c-level positions and on executive boards and has been instrumental in WTS International's Leadership Development Program as well as workforce development initiatives within the industry. She's a role model for transportation professionals both within and outside the field."
***
WTS International, headquartered in Washington, DC, is an international organization dedicated to building the future of transportation through the global advancement of women in the transportation industry. With more than 5,000 members, WTS seeks to attract, retain, and advance women through its professional programs, networking opportunities, and unparalleled access to industry and government leaders. More information can be found at http://www.WTSinternational.org.