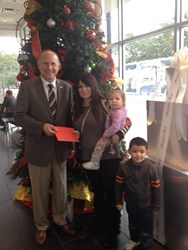 Houston, TX (PRWEB) January 03, 2014
Stewart Cadillac in downtown Houston gave the Houston community the chance to nominate a deserving family to win a $1,000 Visa gift card, a representative of the dealership said. The campaign ran through the Stewart Cadillac Facebook page. Stewart Cadillac has chosen Taylor Judd as the winner of the Christmas Miracle Promotion.
Taylor Judd was nominated by her friend Tiffani Gupton. Gupton said Taylor Judd and her fiancé, Romeo had a daughter about 19 months ago, and shortly after Romeo was diagnosed with leukemia. He moved to Houston to receive treatment from MD Anderson. On December 20, Romeo lost his battle with leukemia, leaving Judd alone to raise their daughter, Khloe.
"Taylor is so sweet, she isn't mad, instead she has been praying and thanking everyone for support. She has even thanked Romeo for giving her a precious gift of their daughter so that they are able to see a piece of him everyday," Gupton says of Taylor Judd.
Judd was announced as the winner on the Stewart Cadillac Facebook page December 24. She was chosen by a panel of judges made up of representatives from Stewart Cadillac and The Infinite Agency. Taylor Judd received a Visa gift card valued at $1,000.
The Christmas Miracle Promotion was open to residents of the United States over 18 years of age. To enter, entrants were asked to "Like" the Stewart Cadillac Facebook Page and go to the Christmas Miracle tab. Once there, entrants were asked to give their name, e-mail address, name of nominated family, phone number for the nominated family, and why they think they deserve a Christmas Miracle. Nominees were accepted from Tuesday December 17 through Monday December 23 at 11:59pm.
About Stewart Cadillac
Stewart Cadillac has been providing midtown and downtown Houston with a large selection of Cadillac models and award winning service for over a decade. Founded by Joe Stewart, Stewart Cadillac offers a large selection of certified new and used models. Stewart Cadillac was voted the #1 Cadillac dealer in Houston and #12 Cadillac dealer in the United States in 2012. With new models arriving daily, Stewart Cadillac is your best choice for quality cars and service in Houston.
For more information on Stewart Cadillac or their Christmas Miracle promotion:
Joe Stewart, Owner
2520 Main Street
Houston, TX 77002
855-207-9849
http://www.StewartCadillac.com