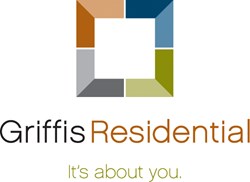 This rebranding significantly benefits our investors and residents.
Denver, CO (PRWEB) January 08, 2014
Griffis Residential, a Denver-based multifamily investment and management company with properties in the Denver Metro area, Colorado Springs and Nevada, has renamed its most recent portfolio addition. Crestwood Resort Apartments in Northglenn is now named Griffis North Metro. Throughout 2014, the property will continue to undergo renovations that raise the community to Griffis Residential standards and complement the name change.
This name conveys Griffis Residential's persistent brand excellence, impeccable customer service and prime locations, in addition to creating consistent brand awareness for online and drive-by traffic. The naming convention builds brand recognition, boosts search engine optimization (SEO) and guides the online apartment searching experience. Griffis Residential anticipates receiving first-page search engine rankings that will drive additional lease traffic to properties.
The Griffis North Metro name further adds value to the property and its residents because it corresponds with RTD's recently approved North Metro Light Rail Line. Design and construction will begin in 2014, and the first phase of the new commuter line will run from Denver's downtown Union Station to 124th Avenue by January 2018.
Ian Griffis, with Griffis Residential co-founder David Birnbaum, explains, "This rebranding significantly benefits our investors and residents. The renaming approach at the property level gives investors a sense of how committed we are about our brand development, investment strategy and service commitment. At the same time, residents can better know that they are part of an organization that is here to support their living experience and make them understand that, 'It's about you.'"
Owning and self-managing a distinct portfolio of Class-A, quality properties in premier locations, Griffis Residential delivers an exceptional resident experience known as the "Griffis Residential Guest Experience" that promotes an "It's about you," customer-centric culture. However, most of the company's properties are not overtly associated with Griffis Residential, so residents are not aware that their community's first-rate service is connected to the Griffis Residential brand. Property renaming supports a cultural brand shift that began in 2012 and highlights the Griffis Residential promise of remarkable service.
About Griffis Residential
Griffis Residential is a multifamily real estate investment company that owns and manages 4,558 Class-A multifamily units along the Front Range, including Denver and Colorado Springs, and Nevada. Headed by Ian Griffis, David Birnbaum and Tom Barta, Griffis Residential focuses on balancing an aggressive expansion strategy with a superior guest experience for its residents. More information can be found at http://www.griffisresidential.com.
# # #