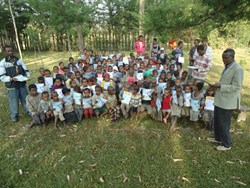 (PRWEB) January 02, 2014
Economists estimate there are currently over one million active charities operating in the United States. These charities contribute nearly ten percent to the US economy and aid countless charitable programs and individuals. Some organizations serve children, widows, veterans or the homeless, and others serve those with terminal diseases. Numerous organizations are funded from the donation of construction, household items, books, bikes, and tools that are sold at the thousands of thrift stores in nearly every major city of the USA. Other charities find funding through banquets, golf tournaments, matched employee giving, or the donation of used vehicles that are sold at auction.
Boat Angel Outreach Center (EIN 42-1619552) is a Christian charity group based out of Arizona, and funded entirely by the processing and sale of donated boats throughout the United States. The boats come from everywhere and in all sizes and models and include Polaris Wave Runners, Bayliner ski boats, Chris Craft Cabin Cruisers, Egg Harbor Fishing Boats, and small personal sailboats and Catamarans. What makes the Boat Angel fund raising program unique is the time and energy that goes into getting boats large and small transferred from the boat donors to those willing to purchase from a non-profit boat donation program.
Some of the work involves getting the proper Hull ID numbers this can be challenging, as on the older vessels the vinyl factory information stickers due to age can be unreadable. There are also difficulties such as getting non-running boats moved from a boat slip to a ramp where they can be hauled out, especially the large vessels that need to be towed. Boat Angel lists their items on their eBay store through their website http://www.charityboatsales.org. Boat Angel uses the proceeds from the donated boats to fund overseas outreach and soccer programs. In addition, Boat Angel Outreach Center produces the popular Family Films and Donkey Ollie series for teenagers and children, which are distributed at no charge to children's home, churches and broadcast stations.
If you have a boat that you are looking to sell, please consider a donation to Boat Angel. For more information please visit http://www.boatangel.org or call 602-903-1844.