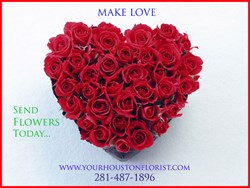 Flowers and Company has secured over 10,000 roses for 2014 Valentine's Day.
Pasadena, TX (PRWEB) January 20, 2014
Valentine is here and February is synonymous with roses and the significance of a shared love amongst lovers, friends, families and businesses. Historically, no occasion demands roses in record numbers like Valentine's Day and perhaps Christmas and New Year. Also, no date instills love like Valentine's Day. It is an extremely special day! For February 14th florist and rose growers around the world stock up and Rose farms are at their peak, ready to cater to the infinity demands for Roses by all lovers, love and beauty ambassadors.
As America witnesses a better, healthier and more promising economic growth, the prosperity and resilience in America is evident in the celebration of the American culture and festivity. An outstanding example is the grand celebrations in 2013, such as the Rose Bowl Parade in California, where flowers and a lot of roses were on full display. The parade was a prime evident of American prosperity, unity, appreciation of nature and a confident path to economic transformation through brilliance and economic perseverance even after years of the global economic meltdown.
Ensuring roses (mostly in red and white) are available for Christmas and New Year in extremely large quantities is what florist and rose growers have pride for. However, guaranteeing the availability of roses and other flowers to countless lovers on Valentine's Day may be in suspense as severe weather conditions are expected to persist through February.
Within the past year, rose growing activities has been well above the pre-industrial rose growing levels. All projections and analytics indicate that florist will experience a shortage in roses on Valentine's Day mainly because of the expected severe weather conditions and the unprecedented demand faced during Christmas and New Year. As a result florist from around the country have already started generating and receiving bookings, orders and inquiries about Valentine's Day specials from hotels, hospitals, businesses, and early bird planners of Valentine's day.
Quantifying and managing impacts of this expected scarcity of roses on Valentine's Day seems a bit challenging. As a result, Valentine's Day celebrants are advised to contact their florist early to secure their roses in time for 2014 Valentine's day celebration.
Houston's premier florist "Flowers and Company," who has established its position as a market leader who ensures the availability of flowers even in times of popular and ridiculous scarcity, Flowers and Company has secured over 10,000 roses for 2014 Valentine's Day celebration in a measure to guarantee the availability of roses for 2014 Valentine's day celebration. To ensure delivery early delivery, Flowers and Company has opened its outlets, such as, its telephone line: 281-487-1896, Online store: http://www.yourhoustonflorist.com and store at 6015 Fairmont parkway, Houston, TX 77505, to scheduling just in time delivery of Valentine's Day roses beginning January 6th 2014.
Flowers and Company has also taking a bolder step in being a price leader by offering the best price for Valentine's Day roses in the country. This best prices offer is available to those who place their orders or schedule their delivery by January, 31st 2014.
Bryan Aaron, President
Flowers and Company and Pasadena Gold & Jewelry