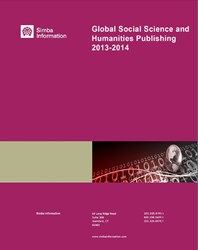 Rockville, MD (PRWEB) January 09, 2014
Global Social Science and Humanities Publishing 2013-2014
This report provides an overview and financial outlook for the global social science and humanities (SSH) publishing markets based on specific research and analysis of the leading competitors' performance through 2012. Simba has used the information it gathered through primary and secondary research to estimate company, market and individual delivery channel performance in 2012. Company performance is projected through 2013. Market and individual delivery channel performance is projected through 2016. This research was conducted in conjunction with a larger study of the overall market for professional publishing, including legal and business publishing, the results of which are available in the associated reports Global Medical Publishing 2013-2014, Global Scientific and Technical Publishing 2013-2014, Global Tax, Accounting and Business Publishing 2013-2014, and Global Legal Publishing 2013-2014.
The overall market and each market segment is divided into four content delivery channels: books, journals, online services (including abstracting and indexing), and other, a category that includes live meetings, audio, video and CD-ROM information.
To order this report:
Global Social Science and Humanities Publishing 2013-2014
Contact: Shauna
800.298.5699
Customerservice(at)marketresearch(dot)com
Simba Information - Reports
Simba Information was formed in 1989 and is widely recognized as the leading authority for market intelligence and forecasts in the media industry. Serving the information needs of both traditional and new media organizations, we provide key decision-makers at over 15,000 client companies across the globe with timely news, analysis, exclusive statistics, and proprietary industry forecasts.
About MarketResearch.com
MarketResearch.com is the leading provider of global market intelligence products and services. With research reports from more than 720 top consulting and advisory firms, MarketResearch.com offers instant online access to the world's most extensive database of expert insights on global industries, companies, products, and trends. Moreover, MarketResearch.com's Research Specialists have in-depth knowledge of the publishers and the various types of reports in their respective industries and are ready to provide research assistance.
Follow us on Facebook: http://www.facebook.com/marketresearchdotcom
Follow us on Twitter: http://www.twitter.com/marketresearch_
Global Social Science and Humanities Publishing 2013-2014 - Table of Contents:
Methodology
Executive Summary
Chapter 1: Global Social Science and Humanities Publishing Market
Chapter 2: Leading Social Science and Humanities Publishers
Chapter 3: Trends and Forecast