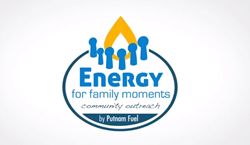 "Every step we take, dollar we spend, every decision we evaluate, will be measured against the positive difference it makes for our New Hampshire community, our families and the families we serve." - Nate Lindquist, CVO
Goffstown, NH (PRWEB) January 04, 2014
Putnam Fuel Company of Goffstown, NH has expanded much more than its service area in 2013, announcing a steady increase in new residential clients throughout Derry, Windham, Londonderry, Manchester and Bedford, NH. Also, many area businesses have joined in Putnam's mission for raising family energy in their "More Energy for Family Moments" charitable outreach effort. The firm has made significant moves this year to raise awareness around bringing families together and has enjoyed a strong response from area businesses as well. Putnam's Waterview Restaurant, Ace Hardware (Goffstown), Harvest Market Sully's Superette, Aubuchon Hardware (Bedford) and a number of others have joined in - to name a few that have demonstrated their involvement. The company reports that tens of thousands of flyers were distributed throughout New Hampshire to help support their charitable campaigns.
The company announced today that it has raised awareness, money and new connections in the community all by focusing on families first. They noted that although they've always given as a company, the majority of their culture and daily routines, training and systems are newly centered on creating connections with families, area businesses and just creating moments of learning, fun, growing and charity - all with a theme of raising energy for families. Here are just a few of the groups that Putnam Fuel and its group of area small businesses have supported in 2013 with this collaborate program.
Goffstown Main Street
IOFF (international order of odd fellows)
Touch-a-Truck events
Supports programs that raise money for Autism Speaks
NH Youth sports teams (baseball, soccer, softball)
Salvation Army Fundraiser with the "family moments giveaways" all planned to bring families together
According to company President John Miles, "When we began this journey over a year ago we didn't realize how quickly the community would respond to our message and new mission. What we've learned is that business owners want to join us and the first question is always about how they can help. Coming to work has a new level of excitement and meaning for us as a team - more than ever before."
When asked if Putnam has any new plans for 2014, they shared that they've hired a new Chief Visionary Officer to help them move their company to another level in the coming year.
Nate Lindquist is the firm's new CVO and also the owner of a number of US based media companies, including Innerspire, LLC Companies and Nate Lindquist Results Coaching.
Lindquist offered this insight into Putnam's 2014 vision, "Every step we take, dollar we spend, every decision we evaluate, will be measured against the positive difference it makes for our New Hampshire community, our families and the families we serve. 2014 will reveal a new and exciting series of outreach efforts for New Hampshire families, so stay tuned! You'll see… we're going to deliver like never before this year – so watch for it."
If other businesses want to get involved in this program, they can pledge toward the "More Energy For Family Moments" charity campaign by getting in touch with Putnam Fuel at 603.497.4897.
About Putnam Fuel:
Putnam Fuel is residential oil and family energy delivery company that also offers a myriad of other services throughout Southern, New Hampshire (NH). Its focus has been on the growing need for home efficiency, safety and health and creating programs to help families solve those types of problems while saving money using the Oil Save Score™ Energy Savings Program. It has specialized in heating and A/C system service and maintenance and has enjoyed serving a growing region of Southern, NH since 1937. The firm's current focus is on helping families raise their energy and continues to deliver their message of giving and energy throughout the year as they offer automatic fuel delivery and their Oil Save Score™ Energy Savings System.
For questions or insights, please contact John Miles, President.
Phone: 603497.4897
Or, visit the Putnam Fuel website at http://www.putnamfuel.com
Or, to view a full list of towns and the service area for Oil Delivery, Service and the Oil Save Score™ program, click service area. http://www.putnamfuel.com/products-services.