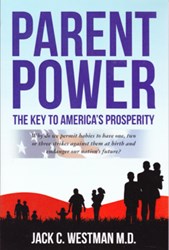 Why do we permit babies to have one, two, and three strikes against them at birth?
Madison, Wisconsin (PRWEB) January 07, 2014
Prejudice and discrimination based on age-ageism-is generally regarded as directed against vulnerable elderly persons. In his book Parent Power: The Key to America's Prosperity Dr. Jack Westman clearly shows that ageism is a devastating force directed against the young in families and in society. It is results in child abuse and neglect and in the societal neglect of the next generation. No wonder the United States leads developed nations in child abuse and neglect and trails them in educational achievement.
"Youth is a wonderful thing. What a crime to waste it on children!" - Attributed to George Bernard Shaw
George Bernard Shaw opened the door to understanding where young people really stand in our society. Even children might smile at Shaw's cynical humor. However, if the word Jews, blacks, or gays is substituted for children, prejudice is instantly apparent. The fact that adults don't take offense at this slur against children illustrates how ingrained prejudice is against them.
Dr. Westman explains why there is resistance to accepting the fact that prejudice and discrimination based on age can be directed against young persons who are even more vulnerable than the elderly. After all, children aren't protesting...or so it seems. He asks why should anyone suggest prejudice and discrimination when children receive so much media attention and often are overindulged at home? They are better off now than a century ago because we protect them with child labor and abuse and neglect laws. We spend billions on public education and on supporting teen parents.
But a different picture emerges if we heed the National Commission on Children. It concluded twenty years ago that our nation was failing its children. The fact that we're still failing them is reflected in the violence, habitual crime, and welfare dependency that plague our society today. Our children are protesting the consequences of juvenile ageism indeed.
In families, the belief that children are the property of their parents draws upon the deeply ingrained assumption that genetic parents have natural affection for their offspring and that parenthood is a reproductive right. It is supported by the legal assumption that others can interfere with parental authority only when parents seriously damage their children through neglect or abuse.
The categories of societal juvenile ageism are:
1) When children are ignored as citizens with developmental needs as important as the needs and desires of adults;
2) When children are unnecessarily segregated from public places and public media;
3) When adolescents are treated as adults;
4) When childcare systems do not serve the interests of children; and
5) When child development research is biased against the developmental needs of children.
Juvenile ageism has the virulence of racism and the prevalence of sexism. It fosters the belief that parents can create and rear children without facing responsibilities to them or to society. It enables the exploitation, neglect, abuse, abduction, and even murder of children. It has contributed to the alienation of many youth from society's positive values. It is the greatest barrier to recognizing the interests of our young citizens in our political processes, in childcare systems, and in households.
Dr. Westman proposes ways to counter juvenile ageism once its existence is recognized and accepted.