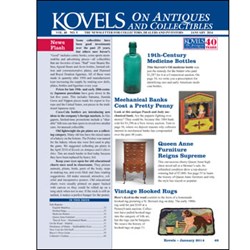 Cleveland, OH (PRWEB) January 03, 2014
A Skerrett's Oil medicine bottle was just the remedy for a bottle collector who paid $1,287 for it at a Connecticut auction. Other rare early American medicine bottles are pictured with prices in Kovels on Antiques and Collectibles January 2014 newsletter. Collectors have pulled hooked rugs into the folk art category. Dyed-in-the wool comfort was on display in the form of homemade hooked rugs from the early 1900s. They sold at a Pennsylvania auction, where a rug picturing a St. Bernard dog on duty sold for $169. The Kovels' January newsletter has pictures and prices of other reasonably priced rugs from the auction. And Kovels' on Antiques and Collectibles newsletter continues to celebrate its 40th year of publication with a sale report featuring mechanical banks and their prices "then & now."
Kovels' newsletter reports on Queen Anne furniture, too, and why the style has stayed so popular. The newsletter includes descriptions of tables, chairs and chests that sold at a Boston auction. Colorful Victorian majolica dishes and pitchers by some famous English makers are also featured in the January 2014 issue. New Uses for Old Stuff shows necklaces made from contemporary beads and chains with added antique charms. January's Dictionary of Marks lists pretzel-shaped "Staffordshire Knot" marks, traditional symbols of England's county of Staffordshire. Many Staffordshire potteries used the knot as a mark. The popular illustrated Collector's Gallery has answers to readers' questions about an Art Deco smoking stand, Libbey Maize glass, a Sunbeam Mixmaster mixer, a World War II peach pit carving and a cathedral music box. The Buyer's Price Guide has current prices of 50 antiques and collectibles and also looks back to its counterpart from January 1975.
Kovels on Antiques and Collectibles is available as a print subscription or as a digital version that is part of the Kovels.com Premium subscription.
Terry Kovel is America's foremost authority on antiques and collectibles. She is a well-known columnist and the author of more than 100 books on antiques and collecting. With her daughter, Kim Kovel, she co-authors the best-selling annual Kovels' Antiques and Collectibles Price Guide. They will discuss antiques and collectibles topics with accredited media. Photographs are available. Contact pr(at)kovels(dot)com.
About Kovels.com
Kovels.com, created by Terry Kovel and Kim Kovel, provides collectors and researchers with up-to-date and accurate information on antiques and collectibles. Kovels' Antiques was founded in 1953 by Terry Kovel and her late husband, Ralph. Since then, Kovels' Antiques has published some of America's most popular books and articles about antiques, including the best-selling Kovels' Antiques and Collectibles Price Guide, now in its 46th edition. The Kovels' website, online since 1998, and free weekly email, "Kovels Komments," give readers a bird's-eye view of the market through the latest news, auction reports, free online Price Guide, a Marks Dictionary, readers' questions with Kovels' answers and much more.
Contact Information:
Liz Lillis
216.752.2252
Pr(at)kovels(dot)com