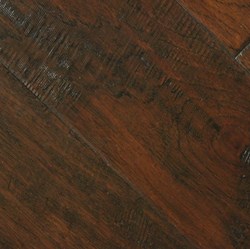 "The Dallas Market is always a good show for us. Plus it's in our backyard, so this is a great opportunity to visit with our customers," says Chris Vines, General Manager
City of Industry, CA (PRWEB) January 07, 2014
Johnson Hardwood is a manufacturer of premium hardwood flooring products who has participated in the Dallas Market Show for over five years now, and has distribution locations in California, Texas, and Pennsylvania. "The Dallas Market is always a good show for us. Plus it's in our backyard, so this is a great opportunity to visit with our customers," says Chris Vines, General Manager of Johnson Hardwood's Texas division. Held at the Dallas Fort Worth Lakes Hilton, this year Johnson Hardwood will introduce two new product lines to the Texas market. The Pacific Coast series in hickory will be on display as well as the Frontier series in birch.
Pacific Coast hickory is engineered in construction and follows the wide with plank trend. "Hickory has a beautiful grain pattern, and the Texas market really favors this wood species", says Chris Vines. The Pacific Coast hickory comes in random length planks to easily accommodate a variety of room shapes. Four different color stains with hues of orange, red, green, and black enhance the natural beauty of the hand-sculpted planks.
The Frontier series is again engineered in construction. "Engineered floors are so much easier to install, and to justify the investment in the long run", says Vines. "What most hardwood flooring customers are starting to understand is that engineered floors are less problematic than solid floors. They adapt to their environment a lot easier and board replacement is not as difficult as solid floors." The Frontier series was designed for the budget conscious that don't want to settle for less than hardwood floors. The five-inch wide flooring planks and 11-step aluminum oxide finish makes this floor an easy choice for those who want hardwood that can handle everyday living.
Johnson Hardwood is one of the leading manufacturers of premium hardwood flooring with distribution to the United States and Canada. We produce on-trend, high-demand flooring options by sourcing durable hardwood species from around the globe. Our products are recognized for their affordability and superior quality. Plus, we offer the highest standard of worry-free floors in the industry being CARB II and Lacey Act compliant. Each flooring plank is precision milled, hand crafted, and hand stained to produce an exquisite product. Johnson Hardwood floors are manufactured with the greatest care and backed by a warranty that assures complete satisfaction.