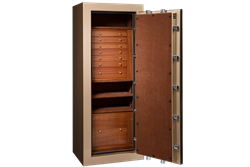 "...What you see is what you get. True. Vibrant. Exquisite. All wrapped up in ultimate security."
SANTA ANA, CA (PRWEB) January 06, 2014
Casoro Jewelry Safes announces an expanded color palette allowing customers to take their design options to a new level. With a dozen high gloss finish options, 8 exotic woods, 8 ultra-suedes and a long list of options, Casoro provides almost limitless ways to customize a luxury jewelry safe. Just a warning: the new, rich Bullion Gold Metallic paint may leave a person's car feeling envious…but their jewelry on the other hand, will revel in the opportunity to reside in security that is as exquisite as she is. A variety of safe design options can be found on Casoro's new Casoro Gallery page, and no, these photos have not been enhanced, photoshopped, or even Instagrammed...
According to Co-Owners Shep and Nancy Bryan, "Our promise to you is this: What you see is what you get. True. Vibrant. Exquisite. All wrapped up in ultimate security."
To help spark people's imaginations, Casoro is also rolling out a brand new Luxury Jewelry Safe Design Kit,
ready to inspire customers as they design their very own masterpieces. The kit includes samples of all of Casoro's elegant woods, paints, and ultrasuedes, so safe consumers can truly let their dreams run wild. Also included, is the Casoro Design Book, to walk customers through the design process, detailed specification sheets of each Casoro Gem model, and a classy USB drive filled with an inspirational slideshow. Even better than photos, Shep and Nancy recommend, "If you like one of the safes on the main gallery page and live locally, or plan to be in sunny SoCal sometime soon, stop by to see it in person!"
2014 is a year of inspiration for Casoro, and Shep and Nancy hope it will be for their customers as well.
"Security Never Looked So Good!"
Casoro is a proprietary line of luxury jewelry safes by Maximum Security. As a family owned and operated business, we have a vested interest in providing you with the best in product and service, such that you are confident you made the right decision. We work hard to make the entire process easy and convenient – from initial design of the safe all the way through delivery and placement in your home. We look forward to helping make your luxury safe design a reality!