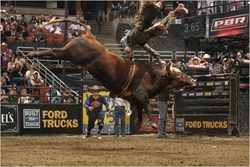 Denver, Colorado (PRWEB) January 03, 2014
It's a classic battle of man against beast. Cowboys born to ride bulls that are bred to resist. In PBR events, the rider's goal is to stay on a violent, explosive 1,500-plus pound brute for eight seconds using only one hand.
The bull, on the other hand, does what it does best: buck, kick, dive, dip, spin, twist and turn with nearly a ton of neck-snapping torque - to eject the rider usually within seconds.
Riders are rated by how long they can stay aboard, while bulls are scored on how quickly and how often they can catapult their unwanted cargo into the dirt. Some bulls, like this year's reigning world champion named Bushwacker, can go for years without ever being ridden for eight seconds or longer.
This year's 39-city tour, and the race to the 2014 World Finals, starts today in New York's Madison Square Garden. J.B. Mauney, a New York fan favorite, will compete for the first time as reigning world champion after a dramatic finish last October at PBR's 20th Anniversary World Finals in Las Vegas.
He captured his third consecutive title (championship belt buckle and million dollar prize money) after holding off Brazil's back-to-back world champion, Silvano Alves. Mauney and Alves reboot their intense rivalry today.
"Last year, the PBR opener drew more than 43,000 fans to the Garden and set a new attendance record for the three-day competition. Named America's fastest growing sport by Forbes Magazine in 2013, PBR tickets are currently trending at the top of sports queues," said Marta Ault at online ticket marketplace BuyAnySeat.com.
"That's why we're proud to be able to offer fans the most complete and continuously refreshed selection of sports tickets online, with a worry-free guarantee to protect their purchase," said Ault.
"To access the full listing of PBR tickets we now have available, customers can go to BuyAnySeat.com and search for PBR – then select their tickets."
The bull riders will face one bull each during Round One on Friday, Round Two on Saturday and Round Three on Sunday. Following that, the top 15 riders with the highest cumulative scores will advance to the championship round that day. The rider with the highest combined score wins the event.
Next stops on the tour include the Bon Secours Wellness Center in Greenville, South Carolina on January 4; Columbus Civic Center in Columbus, Georgia on January 10 and Allstate Arena in Rosemont, Illinois on January 11. The tour stops at the National Western Stock Show in Denver, Colorado from the 13 – 26, 2014.
January events are also scheduled at the Garrett Coliseum in Montgomery, Alabama; Lawlor Events Center in Reno, Nevada; Gwinnett Center in Duluth, Georgia; Chesapeake Energy Arena in Oklahoma City, Oklahoma; Sears Center Arena in Hoffman Estates, Illinois and Sleeptrain Arena in Sacramento, California.
Professional Bull Riders or PBR is an international professional bull riding organization based in Pueblo, Colorado. It was founded in 1992 by 21 professional bull riders who gathered in a hotel room in Scottsdale, Arizona and each contributed $1,000 to begin operations. Since then, the organization has grown into two tours and over 100 events in the United States each year. Annual prize money has also shot from $330,000 in 1994 to over $11 million since 2008.
Riders attempt to stay on a bucking bull for eight seconds, and rides are judged based on both the rider's and the bull's performance, with two judges scoring the rider and two scoring the bull.
The season culminates with The Ford Tough World Finals, which are scheduled at the Thomas and Mack Center in Las Vegas from October 22-26, 2014. The bull rider with the most points for the 2014 season will receive the World title and a $1,000,000 bonus. A finals champion will also emerge from the five-day event.
The reigning PBR World Champion Bull is named Bushwacker. Born in 2005 and tipping the scales at over 1,500 pounds, Bushwacker scored a remarkable 100 percent buck off rate in 2010, 2011 and 2012. His stats for 2013 were a 96 percent buck off rate and an average buck off time of 3.31 seconds. The 2011 champ reclaimed his title by throwing Eduardo Aparecido in 4.57 seconds at last year's finals.
To shop for PBR tickets, visit BuyAnySeat.com.
About BuyAnySeat.com: An online ticket marketplace, BuyAnySeat.com connects sports, theater and other live entertainment fans to an extensive network of ticket sellers worldwide. The site's simplified listings and navigational tools enable shoppers to easily locate, compare and purchase inexpensive, discounted or lower-priced tickets to virtually all advertised sports and entertainment events around the globe.
The site, which is PCI-compliant and Norton Secured, also provides customers with a complete Worry-Free Guarantee on all ticket purchases. Based in Denver, Colorado, BuyAnySeat.com is a subsidiary of Denver Media Holdings. For more information, please visit http://buyanyseat.com.