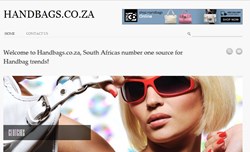 Designer Handbags in South Africa
Johannesburg, South Africa (PRWEB) January 03, 2014
Handbags.co.za as of the New Year, January 2014; officially will exist in South Africa, after a successful beta test / soft launch. The site will be improved by having more frequent updates, earlier reports of designer handbag trends, as well as the release of the luxury handbag newsletter.
In addition, designer shoes, boots, jeans and makeup lines will become an integral part of the site. The landscape of fashion in South Africa has drastically changed due to Handbags.co.za and many other South Africa handbag related sites including e-commerce.
To our loyal users, nothing familiar will change, but more enhanced features will be added to improve the user experience. These will include top designer handbags offers, discounts, handbag reviews all catered to the South African fashion scene. Handbags as an important fashion accessory market in Cape Town, Johannesburg, Pretoria, Durban, Port Elizabeth, Sandton and other areas/cities will be featured to provide local edited information. Other fashion events, including fashion week, quality handbag and accessory giveaways will also take place in the New Year ahead.
It is our mission and continued passion at Handbags.co.za to remain to be the number one source for luxury handbag trends in South Africa for those looking fashion forward.