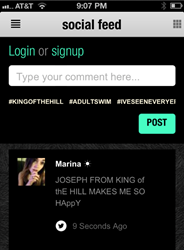 'We are excited to power the second-screen 'sync to TV' social integration for the app, which reinforces the leadership of Arktan's social platform on mobile devices.' - Rahul Aggarwal, Arktan's CEO & Co-Founder
Redwood City, CA (PRWEB) January 07, 2014
Adult Swim has partnered with Arktan to power the comprehensive social platform of Adult Swim's new mobile app, Adult Swim Bump Builder.
The app's 'sync to TV' feature syncs the second-screen social conversation in real-time to each show currently in Adult Swim's linear telecast. Arktan SocialStreams is powering the second-screen social conversation by extending curated real-time fan and official social conversation to Adult Swim Bump Builder from across all leading social platforms, including Twitter, Facebook and Instagram.
Fans can then start "divulging their brain matter" in the second-screen social conversation. They can see the most popular hashtags in the app, and after using their social login, start participating in the conversation by posting their comments and sharing them on Twitter or Facebook.
The app's mobile-optimized grid visualization enhances the social conversation. The responsive visualization is optimized for viewing photos and videos from Adult Swim television shows and provides fans with mobile-optimized social experiences on both smartphones and tablets across all leading mobile platforms, including Apple iOS and Android devices.
"As consumption of content on mobile devices continues to grow, it's increasingly important for brands to tailor real-time social experiences for mobile. The Adult Swim Bump Builder app is highly mobile-optimized. We are excited to power the second-screen 'sync to TV' social integration for the app, which reinforces the leadership of Arktan's social platform on mobile devices," said Rahul Aggarwal, Arktan's CEO and Co-Founder.
About Arktan, Inc.
Arktan is a leading provider of innovative real-time social curation and conversation products for media, entertainment, TV, sports, and consumer brands. Arktan has earned a reputation among customers as a strategic partner with innovative technology solutions, and excellent customer service.
Arktan products extend curated real-time social content and conversation from Twitter, Facebook, GetGlue, YouTube, Instagram, and all other leading social platforms and blogs for social interaction on-air and on brands' own sites and mobile apps.
Arktan is powering real-time social experiences for leading brands, including Warner Music, Sony Music, Universal Music Group, TNT, TBS, ABC, CBS, NBC, Univision, WWE, The Washington Post, Bell Media, Toronto Star, and Sonos.
About Adult Swim Digital
Adult Swim Digital oversees the management and production of content for the channel's official site, AdultSwim.com, and digital extensions. A top industry website, AdultSwim.com averages 3.6 million unique users each month in the United States and features more than 130 free-to-play original online games, including top titles such as Robot Unicorn Attack and Amateur Surgeon. Adult Swim has launched 36 apps in the iTunes store, which have ranked in the Top Free Apps, Top 5 Paid Apps and Top 5 Paid Games categories, including three #1 Top App titles in 2013.
Adult Swim is basic cable television's #1 network in Total Day for the past eight consecutive years among adults 18-34, 18-49 & 18-24 and men 18-34, 18-49 & 18-24.