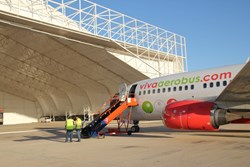 Ciudad Obregon, Sonora (PRWEB) January 04, 2014
"The year 2013 ends with the arrival of our first plane in our new hangar. The timing was great; we are just putting the final touches to the hangar and we immediately have to refocus on our new core business. We are very excited by all the opportunities presenting themselves and I am pride to say; the hangar is open for business," says Mike Dornenburg, V.P. Operations.
"Later in the month, we will have our grand opening event. All those interested are welcome to come. We are expecting political and industry dignitaries to attend. A final date will be announced soon," says Julio Cesar Alvarez, CEO.
To all our friends, colleagues, business partners, customers, we at QET Tech Aerospace wish you all the best for 2014.
QET Tech Aerospace is a Mexican company based in CD Obregon, Sonora Mexico. It provides services and products to the international aviation industry.