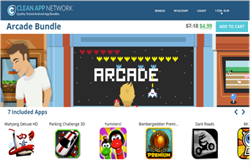 Aliso Viejo, CA (PRWEB) January 07, 2014
Launching today to help contain the rapidly-growing number of "bad apps" in the Android marketplace, the Clean App Network has been created by M2Catalyst as a highly-curated Android app network comprised of quality-tested Android apps with no advertisements, each sold in bundles at a discounted price.
The Clean App Network website and mobile app lets users browse through app bundles, each of which contain 5-10 apps, in order to purchase and download at a lower cost than alternative stores. With the rapid proliferation of malicious and bug-filled apps in the Android market, app consumers running the gamut from shoppers to gamers to parents, will now be able to make app-based purchasing decisions without having to worry about downloading harmful apps thanks to the ad-free environment on the Clean App Network.
The Clean App Network, both the website and mobile app, aims to tackle some of Android's biggest challenges, which in turn, provides consumers a more user-friendly mobile and tablet experience, supports developers by recognizing premium apps that may not get noticed in other flooded stores, and helps carriers conquer the ongoing battle of device returns.
After undergoing rigorous automated testing using M2Catalyst's M2AppMonitor, as well as strict manual testing, apps on the Clean App Network have been proven to outperform and more efficiently utilize resources when compared to apps found in alternative app stores.
Michael Brough, CEO of M2Catalyst, stated, "Many people aren't aware that most free apps contain rich media advertisements that consume more data from their data plan, drain their device's battery, and flip on the GPS due to having location-based advertisements. The Clean App Network will help turn the tide on this growing problem forever."
For more information about the Clean App Network and to download the Android app, please visit http://cleanappnetwork.com/app/.
About M2Catalyst
M2Catalyst is a mobile software development and distribution firm based in California. The company produces compelling and differentiating Android, iOS, Big Data, Cloud, Social Networking, and Analytics software products not only for the consumer, but also for the wireless carrier, device OEM, app developer, media, and enterprise markets.